The kanjeevaram silk saree is also known as kanchipuram saree. The name Kanchipuram saree originates from the place of origin of this saree, Kanchipuram region in Tamil Nadu, India. It is believed that the Kanchi silk weavers are the descendants of Sage Markanda, the master weaver of the Gods, who is supposed to have weaved tissue from lotus fiber. The history of the kanjeevaram silk saree goes back over 400 years, making it a timeless wonder. The Devangas and Saligars were famous weaving communities who lived in Andhra Pradesh.  During the reign of King Krishna Devaraya of the Chola dynasty, these popular weavers moved to the Kanchipuram region.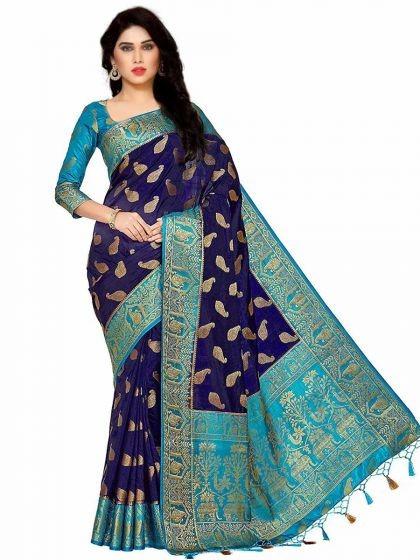 Buy this
Women buy kanjeevaram silk saree online due to the extremely fine and premium quality of the silk that is used to weave these sarees. Pure mulberry silk thread is used to make the kanjeevaram silk saree. This fine silk thread is first dipped in rice water and then sun-dried. This helps in increasing the stiffness and thickness of the thread. Once this is done, the weaving process begins. Kanjeevaram silk sarees are woven in two or three parts. The body of the saree and the pallu are woven separately and joined together at the end. Often, the border of the saree is also woven separately. Ultimately, all these three parts are joined together, which is known as korvai. This intricate process makes the kanjeevaram silk saree a timeless wonder!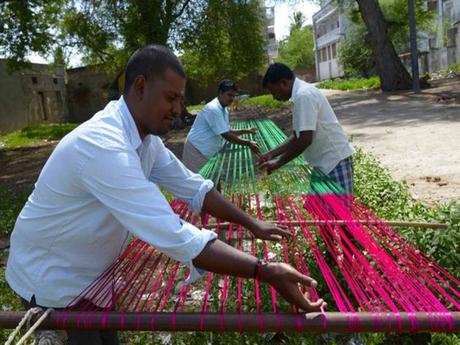 Source: www.unnatisilks.com
Kanjeevaram silk saree is made by interlocking the premium silk thread with a thin silver wire, after which gold thread is used to complete the entire attire. Kanjeevaram silk saree online features rich designs showcasing motifs from the Pallava temples, palaces, scenes from the Ramayana and the Mahabharata and the paintings of Raja Ravi Verma. Pure gold and silver zari thread from Gujarat is used to embellish these sarees and give them an elegant look. Usually, bright and bold colours are used in these sarees to make them look eye-catching. Gold and red kanjeevaram silk sarees are most often worn by South Indian brides on the day of their wedding. These sarees have wide, contrast borders which showcase motifs inspired from South Indian temples, like flowers, birds and leaves.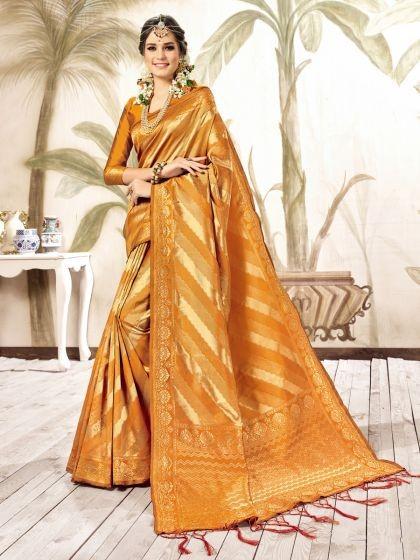 Get this
These elegant silk sarees from South India are a favorite amongst Indian women. The rich colours, gold and silver zari work and intricate designs make the Kanjeevaram silk saree the outfit of choice during weddings and festivals. Kanjeevaram silk saree online is available in a variety of designs and patterns. For regular parties and events, most women prefer simple kanjeevaram sarees with delicate and small designs all over the body and a heavy border and pallu. During weddings, on the other hand, heavy and embellished kanjeevaram silk sarees are preferred, showcasing heavy gold and zari thread work as well as elaborate designs all over the body. Apart from borders with temple designs and nature-based motifs, kanjeevaram silk sarees online also have borders with stripes and checks.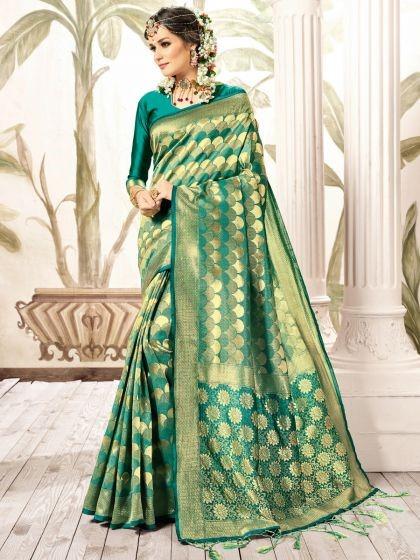 Check this out
Saree Inspiration From 4 Bollywood Divas
Indian celebrities and actresses adore the kanjeevaram silk saree due to its timeless beauty. Rekha is a strong lover of the kanjeevaram silk and awes everyone with the beauty of her kanjeevaram sarees. Aishwarya Rai opted to wear a golden yellow Kanjeevaram silk saree on her wedding day while Deepika Padukone wore a gorgeous red and golden Kanjeevaram for her Konkani wedding. Esha Deol brought a trendy twist to her wedding look by combining three heavy kanjeevaram silk sarees to create a grand red and gold lehenga. Oprah Winfrey too could not ignore the beauty of this outfit and donned an exquisite orange kanjeevaram silk saree on her maiden visit to India.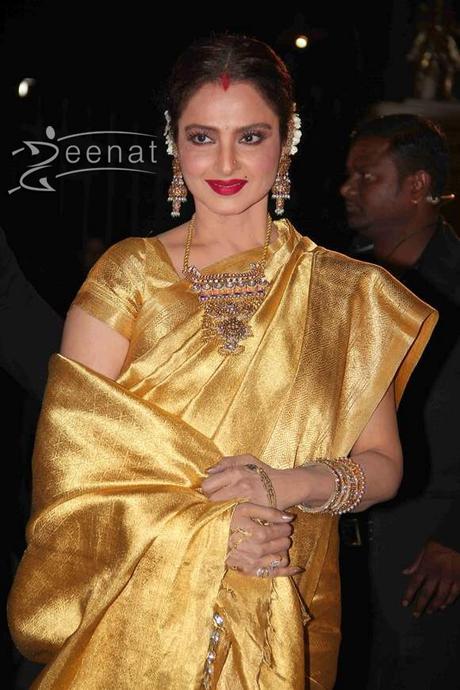 Source: zeenatstyle.com
The regal kanjeevaram silk saree online usually has heavy work and embellishments, thereby not requiring a lot of accessories. Most women prefer to wear this saree with gold jewellery, to give a traditional Indian look. South Indian brides accessorise the kanjeevaram silk saree on their wedding day with heavy gold neckpieces, earrings, maangtikas, waistbands, nose-rings, bangles, rings and anklets. The entire royal ensemble makes them look like a queen.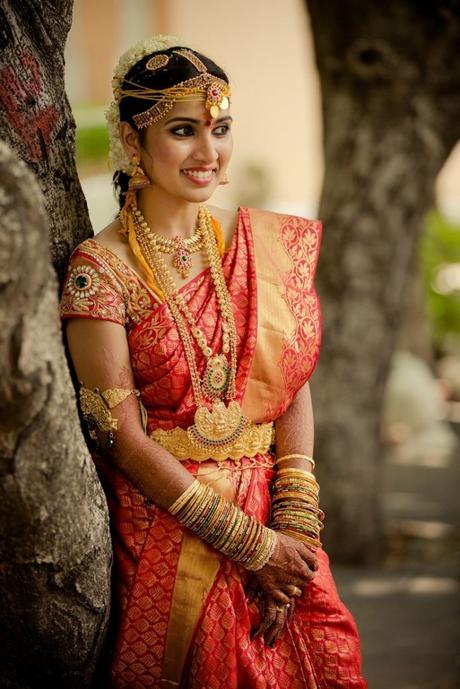 Source: i.pinimg.com
The kanjeevaram silk saree is an Indian ethnic outfit that hasn't lost its charm and beauty over the years. These sarees are as much loved by women today as they were by our grandmothers and great-grandmothers. A kanjeevaram can mesmerize people with its understated elegance and incomparable beauty. Check out our wide range of exquisite kanjeevaram silk sarees online at Sareez.com.