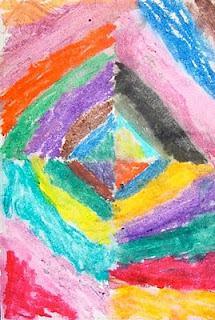 Wassily Kandinsky made a beautiful painting called "Color Studies" back in the early 1900's that is fun to imitate with oil pastels instead of watercolor.


1. Distribute 9" x 12" pieces of art paper to students. Give them rulers to measure and draw pencil lines across the middle of the paper in both directions.
2. Ask the students to start in the center and with an oil pastel, draw an angle and fill in the triangle that is created. Continue around the center with drawing triangles, only changing colors each time.
3. Once a diamond is created, add bands of color around the diamond, always changing color on the pencil lines. Continue until the paper is filled with color.


This picture was made by a kindergartener in an afterschool class.