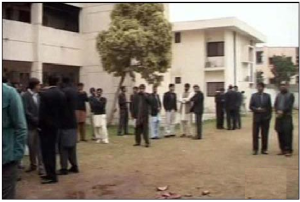 In a strange development a NAB official has been found dead in Federal Lodges. He was investigating Rental Power case which also involves sitting prime minister of the country. Supreme Court of Pakistan has ordered arrest of all accused including prime Minister.
According to details dead body Kamran Faisal was found hanging from ceiling fan. Inspector General Police Bin Yameen said that apparently this is a suicide case. NAB sources said that Kamran Faisal was in stress due to this high profile case. He had already requested Director General NAB to disassociate him from the case.
Kamran Faisal graduated in M.Sc and was the only son of his parents. He has left widow and two daughters mourning.