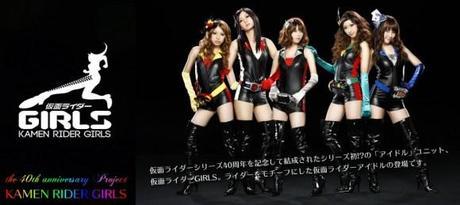 HALP! Geek down, geek down! In need of assistance!! 
So get this, last year to commemorate Kamen Rider's 40th anniversary, Avex Trax and Ishimori Productions created the idol group Kamen Rider Girls. Each girl represents one of the protagonists from the Kamen Rider series (more details below). Originally there were five members, but now another has joined their ranks.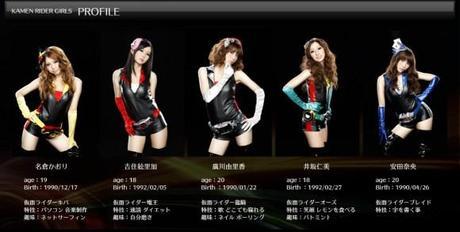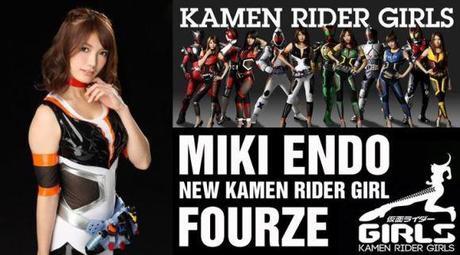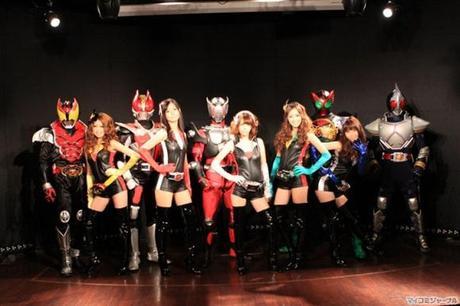 Kaori Nagura (名倉かおり)

Age: 19
Birthdate: December 17, 1990
Kamen Rider Kiva
Special skill: computers, composing music
Hobby: surfing the net

Erika Yoshizumi (吉住絵里加)

Age: 18
Kamen Rider Den-O
Birthdate: Februrary 5, 1992
Special skill: speed reading, diet
Hobby: improving herself

Yurika Hirokawa (廣川由里香)

Age: 20
Kamen Rider Ryuki
Birthdate: January 22, 1990
Special skill: singing, can sleep anywhere
Hobby: nails, bowling

Hitomi Isaka (井坂仁美)

Age: 18
Birthdate: February 22, 1992
Kamen Rider OOO
Special skill: smile, eating lemons
Hobby: badminton, swimming

Nao Yasuda (安田奈央)

Age: 20
Birthdate: April 26, 1990
Kamen Rider Blade
Special skill: writing characters
Hobby: kickboxing
What's that? Do they have a music video? Why yes, (un) fortunately, they do! Here you go, enjoy this "remastered" rendition of Kamen Rider V3′s theme song.
Via: Jefusion