Kalpeshwar Temple
is a Hindu temple dedicated to Lord Shiva. it is situated at an altitude of 7218ft in Garhwal Himalaya range of Chamoli district of Uttarakhand. this temple belongs to PANCH KEDAR TEMPLE.kalpeshwar temple is the fifth and last temple to be visited under the panch kedar temple(
Kedarnath

, tungnath,

Rudranath

,

Madmaheshwar

, Kalpeshwar
).  This is the only temple out of five temple(panch kedar) which can be visited 12 month of year. Lord Shiva's  tangle hair ( JATA -जटा ) worshiped in kalpeshwar temple. hence lord Shiva also called as the name of JATADHARI (जटाधारी - one who have long messed tress). the beautiful ambiance around the temple  looks like quite peace on heaven causes a beautiful place to do meditation.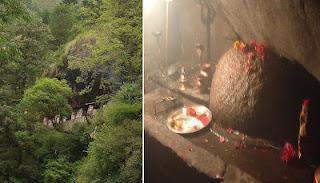 kalpeshwar temple
Trekking route of kalpeshwar temple
- K
alpeshwar Temple
located in urgam valley in district chamoli of uttarakhand. nearest railway station is rishikesh. then you can hire local travel or can be buy travel tour package from Rishikesh but it is better if you have own vahicle.The Temple is open 12 month of year but it is better to visit if you also plan to visit badrinath dham or
char dham yatra
cause this temple is situated on the way of rishikesh- badrinath road. HELANG is a place which is on the way of badrinath road. a 9 km of dirt road track going from Helang to Urgam valley then it isjust 2 km of easy trek from urgam valley to Kalpeshwar temple.