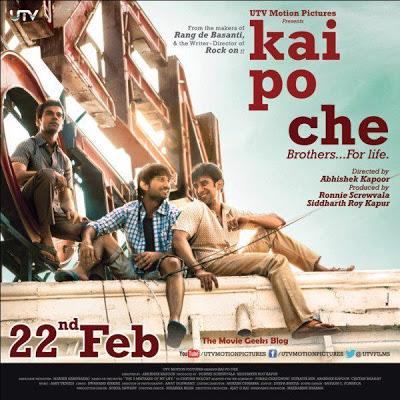 "Kai Po Che" is directed by the man who made Rock On, Abhishek Kapoor. Rock On was a fabulous film, so is Kai Po Che. It is a screen adaptation of the fiction novel "The 3 Mistakes of my Life" written by Chetan Bhagat.
I must remark, that although I found the book, a very mediocre piece of work, I loved the movie on the same story. I mean, at any moment, the author didn't make me realize, how great a story it really was. But the director surely did it in the movie version of the book.
Kai Po Che is a great film, the direction, the acting by the whole cast and the background score is simply outstanding. Particularly the background music complements the whole story line and influence it tremendously.
Almost all the scenes are from the original book, except the Australian part, which was not needed anyway. The real life incidents mentioned in the film are well mixed up with the fictitious characters.
Some of the biggest issues/entities in India; cricket, politics and religion are depicted beautifully in Kai Po Che. 

The cast is inexperienced, but director Abhishek Kapoor managed to extract something really extraordinary from the three of them. Particularly, Sushant Singh Rajput steals the show, Raj Kumar Yadav was the 2nd best according to me.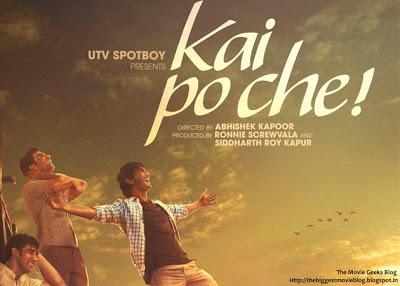 If you liked "Dil Chahta Hai", "Rang De Basanti", "3 Idiots", "Zindagi na Milegi Dobara" or any other friends forever flick [well, of course you liked it, who didn't?], then Kai Po Che is going to be another on that list.
This film is by far the best film of 2013. I want it to win many awards next year, because it surely deserves to win.
And yes, it has a different climax and a better one, if you trust me.
Movie Geeks Ratings: 8.5/10
Cast: Sushant Singh Rajput, Amit Sadh, Raj Kumar Yadav, Amrita Puri
Directed by: Abhishek Kapoor
-------------------------
Author: Amrit Rukhaiyaar