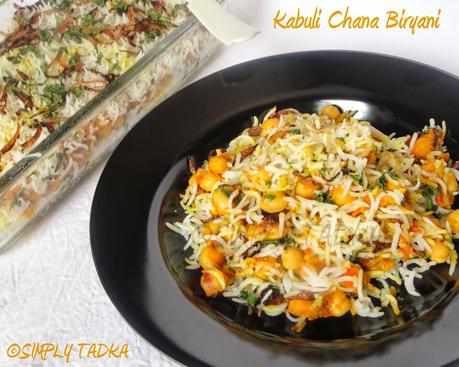 Kabuli Chana Biryani is really tasty and delicious biryani recipe, a complete combination of rice and pulses. You can serve this biryani with curd or raita and mango pickle. It's really healthy and complete meal to serve as main course in lunch or dinner menu.  
For this recipe, we have to cook rice and white chickpeas separately and assemble them in microwave safe dish. Even you can use roasted dry fruits to garnish biryani.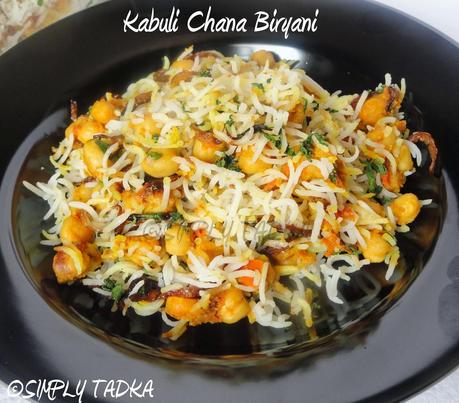 Preparation Time: 20 Minutes Cooking Time: 35 Minutes Servings: 4 Category: Rice Recipe
Ingredients: 4 Cup Basmati Rice, boiled 3 Tbsp. Ghee 1/4 Cup Milk Few Strands Saffron 1 Cup Fried Onions Green Coriander, chopped
For Kabuli Chana Gravy 2 Cup White Chickpeas, Boiled 1/4 Cup Yogurt   2 Tomatoes, chopped 2 Green Chili, chopped 1/2 Tsp. Ginger, grated 1/2 Tsp. Garam masala 1 Tbsp. Coriander powder 1/2 Tsp. Turmeric powder Salt to taste Red chili Powder to taste

Instructions: For Kabuli Chana Gravy Heat the ghee in a pan, add cumin seeds. When they starts splutter, add green chili and ginger and sauté for 1 minute on medium flame. Add chopped tomatoes and cook till to soft and mashy. Add spices and mix well. Add the yogurt and cook on low flame for 2 minutes. Add kabuli chana with little water and cook for 5-7 minutes.
Other Preparations Slice the onion and deep fry them until to golden and crisp, remove on plate and keep aside. Soak the saffron in milk and keep aside. Cook the soaked basmati rice in enough water and salt, Keep aside.
How to Assemble Take a microwave safe dish and grease with ghee. Sprinkle fried onion and chopped coriander. Put the half portion of cooked rice and spread it evenly. Pour half portion of milk and fried onion and chopped coriander. Put the kabuli chana gravy over it and spread it evenly. Again put the remaining rice and spread evenly. Pour milk and garnish with chopped coriander and fried onion. Microwave it 10-15 Minutes and serve hot.
Notes: You can use dry fruits also for garnishing in biryani, If you like dry nuts like cashews, raisins, almonds.
Tags: how to cook kabuli chana biryani, kabuli chana, chickpeas gravy, biryani recipe, rice recipe, basmati rice, white chickpeas, simplytadka, vegetarian recipe, lunch menu, easy recipe, learn how to prepare biryani. 
Share with "Let's Brunch on Sundays" Hosted by  Priya and Veena.
Enter your email address:
Delivered by
FeedBurner