Woohoo! ~ It's Day 2 of being a Guest Designer for JustRite Stampers!!!  I don't know about you, but I love to travel. I create so many wonderful memories and want to document them.  So, I am forever making mini albums.
JustRite has created some of the most amazing background stamps!  The Vintage Map Collage Background Stamp is perfect for a Travel Album.  There is so much depth, and so many areas to color and embellish to any theme.
Here is a sneak peek of my 2nd project ~ Travel Mini Album.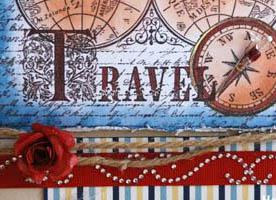 Please hop on over to the JustRite Stampers Blog to see the entire album!
You won't be dissapointed I promise.  It's one of my favorite projects.
I've used brand new Nina Brackett Want2Scrap Bling, new Theresa Collins patterned paper, new Bo Bunny Mini Album, Spellbinders die templates of course and some lovely fluid chalk ink by Clearsnap as well.
Speaking of travel.....I was fortunate enough to enjoy another trip with Spellbinders to Phenoix, AZ!  I'll tell you all about that in another post.  
Please hop on over to the JustRite Blog to see the entire project!
Leave me a comment on the JustRite Blog and let me know what you think.
Thanks so much for taking the time to venture over and see my Guest Designer Projects ~ Day One and Day Two!
Hugs
Holly