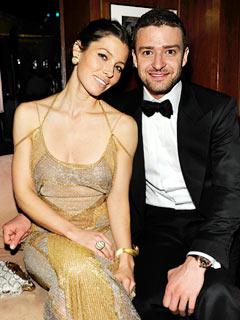 Pop singer, Justin Timberlake and fiancée Jessica Biel celebrated their engagement along with close family and friends on Saturday night. It was weeks after Timberlake, 31 had asked the big question to his beau that this celebration took place.
The soiree had close to 100 guests with only kiths and kins attending it including Biel's parents Kimberly and Jonathan and close friends like Timbaland, Lance Bass, JC Chasez, Trace Ayala, Ellen DeGeneres, Portia DeRossi and Amy Adams in attendance.
It has been reported that the ritzy cocktail party was hosted at Biel's stylist and Timberlake's long-time friend, Estee Stanley's Los Angeles home. The 30-year-old actress donned a leopard-print halter dress teamed with pink belt and shoes, while Justin was dressed in a black suit and fedora.
A source said, "Justin and Jessica arrived at the party looking very excited. Estee created a very warm, welcoming and festive party for the couple. The guests were served gourmet appetizers by Wolfgang Puck Catering along with wine and champagne and enjoyed live music before a DJ took over to play popular hits from Usher, Madonna and Michael Jackson".
Justin had proposed to Jessica in December 2011, five years after they started dating since January 2007. The actress flaunted her impressive diamond engagement ring at this year's extravagant Metropolitan Costume Institute Gala, held in New York earlier this month.
Another source added, "Justin and Jessica danced and looked very happy. Speeches then followed, with Friends with Benefit star Justin appearing particularly "touched" by Timbaland's words".
The couple returned to their Hollywood Hills home at 12:30 A.M. after leaving the bash.
The pair was spotted earlier this month at a jewelry boutique in New York City's Soho vicinity shopping for wedding bands. Though the couple didn't select any wedding band, but they surely left the store with a ring worth $2,200 and two necklaces.
Being an extremely private couple, neither has given out any details related to either the engagement or the wedding, but sources remarked the duo is set to tie knots in September.