Back in the early fall I attended a JustFab event at the the Sunset Towers in Hollywood. I received in the gift bag along with a necklace and bracelet a gift certificate for a credit of 350 points (equal to one item) As far as the jewelry was concerned, I was not impressed. It was lower quality than what you get in Santee Alley (our garment district alleyway in LA). Basically equal to that of a quarter machine, you know the ones with the plastic casings...
Needless to say I was not jumping at the chance to use my gift certificate. Months later, thinking about how all these sites work; I found it was a good time for a review on the process of how this sort of thing works. Here is my review...
Create Username and Password Really, like I don't have enough of those already!!!! 
*shakes fist* 
Choose from a bunch of B-list celebrities to identify with which one is most likely you
I am not totally sure how the aggregation works here? I mean, after 10 picks of these "stylish" people. I was more confused about what I liked and didn't like. And that was just the mood I was in that day! I really don't like this, as I am guessing after logging back in, it doesn't ask you next week what you like, so now you are pigeonholed into a category that they felt made sense... forever?
When you sign up, that day only you receive a magazine subscription and 50% off your first purchase
Well isn't that nice, you offer 50% off!!! I found a plain black classic bag; I thought "I can find something else and I will use the 50% off the bag and use my credit on something else?" Well, I am assuming it's this pigeonhole I was thrown into and now my choices have me backed into a corner and one style? Everything is starting to look the same, except the boots with the fur? I am NOT sure how that got into my
Little Shop of Horrors
but, let me make one thing clear; boots with fur have never and will never make into my shoe rack. 
As for the magazine subscription, that was in fact a discount. I received a separate bill in the mail with a credit to the account of 86% off, but still would have to pay for this subscription. 
Checkout
Because I entered in my gift certificate code and then decided to go back and shop around... this turned my checkout into a nightmare (Basically it deactivated it, even-though I purchased nothing/yet). I blame only myself for this lack of commitment. But the tech support, via IM was supportive. I mean, I explained my problem and it took her about 45 minutes to understand what the problem was. My guess is that she didn't know how to read very well or, she was so busy she couldn't take care of the issue by reading what I wrote the first time. Apparently it was acceptable to ask me to re-send her the problem description about four different times. Anyhow, she finally processed the checkout for me and sent the confirmation email.
Package Delivery

The best part of this sad story is the happy ending. The bag was much more then I expected. It came in exactly a weeks time, packaged very nicely. I was very surprised to see a storage bag included. Every detail was wrapped perfectly. Maybe they should move the packaging people into the customer service area to teach them about coverage and follow-through.
Best Part
Construction and over all quality, great for the price. This bag is about $39.00 retail and worth every penny! The lining is a fun print, weight is good, size is substantial, pocket proportions are perfect and right where they should be. I give the
product a 10 out of 10
.
And they gave me a $25.00 gift card for their Dermstore, (although you must spend at least $50.00 to get the $25 off) But hey, whatever gets you coming back for more.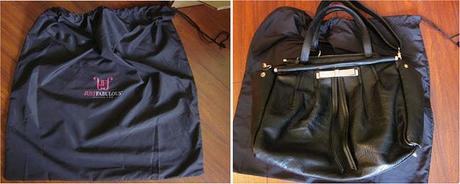 I say try it...
xo,
L