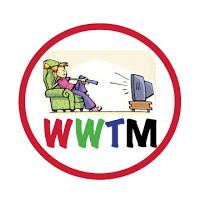 THE ANSWER TO THURSDAY'S TRIVIA QUESTION: Ben MacKenzie played Ryan Atwood in The OC and currently stars in one of my husbands favorites shows, Gotham.  FIRST FIVES:Mike O'Dea, Bobby Aguilera, Brett Blattman, Andrea Walters & Tammy Moss HONORABLE MENTION: Daniel Block
Goldbergs Trivia: The two songs were: "The Touch" and "Faithfully."  
Goldbergs Trivia Question #2- Kelly Ripa used to dance on Dance Party USA
THE NUMBERS 
Wednesdays Broadcast Top 5
Modern Family-ABC 2.9/8.0
Survivor-CBS 2.2/9.2
Law & Order SVU-NBC 2.1/9.2
The Goldbergs-ABC 2.1/6.7
The Middle-ABC 2.0/7.3
Wednesday's Cable Top 5
NBA Playoffs-TNT 1.3/2.9
Big Bang Theory-TBS 1.0/2.8
American Dad-Adult Swim 1.0/1.9
NBA Playoffs-TNT .8/1.8
Bob's Burgers-Adult Swim .6/1.3
Wednesday's Twitter Top 5 Primetime Ratings 
Chicago PD-NBC 68,000 Tweets
Arrow-CW 58,000 Tweets
American Idol-FOX 55,000 Tweets
Catfish-MTV 25,000 Tweets
Mayocks Mock Draft-NFL Network 1,000 Tweets
THE SHOWS 
Vampire Diaries
All you really need to know is that Elena took the vampirism cure and got all her memories back. All the other stuff was filler
Lip Sync Battle
Chrissy Teigen had the boobs completely covered and yet still so much skin exposed. SUPER short leather shorts, the belly and the arms. The show doesn't need her in any way, but for some reason, I enjoy her. This week, 
Michael Strahan and Hoda Kotb…battle of the morning show hosts. Not sure if Hoda had some chardonnay prior to her performance but for courage alone, I'm assuming she did. 
ROUND 1 Hoda performed "Baby Got Back." She did a surprisingly awesome job, but I so wanted to beat the director over the head. STOP PULLING THE CAMERA BACK! Let the viewers see the performance. OMFG how in the world does nobody else not see this. Are Jimmy, Stephen and John watching? SO ANNOYING. Michael Strahan performed "London Bridge" by Fergie. No idea at all if Michael did a good job getting the words right. He did get people to wave their arms and he did dance well, but his huge mega paws and the microphone blocked his lips. So…Hoda wins.  ROUND 2  Hoda performed "Uptown Funk" pretty damn good. Microphone placement was good. Lip Sync was good but too much turning away from the camera. Strahan was next. For me, Bell Biv Devoe wasn't much of a surprise it was in the preview clip all over the place all week. I guess Michael thought that having the hat, the jacket, the moves and the actual group with him would sway the audience, but if you don't know the words, you won't win and he didn't.  Side note: Loved LL's COOLJ bling https://www.youtube.com/watch?v=B6tgTI9H_to
THE OTHER STUFF -I couldn't get to the A&E Upfront last night but I read that they will be remaking ROOTS. I can't imagine anyone but Levar Burton as Kunta Kinte aka Toby but then I realized that the original ROOTS aired in 1977…nearly 40 years ago…OMFG that fact made me REALLY FEEL OLD. 
-Some Letterman numbers:
Late Night with David Letterman had 1810 shows over the course of 595 weeks

The Late Show with David Letterman has  had 4,214 shows, 4 primetime specials and has run for 1,135 weeks

First Face to appear on both Late Night and Late Show was Larry  "Bud" Melman

Bill Murray was the first guest on both shows and he will have appeared on Lettermans shows 44 times in total

Lettermans's shows have received 16 Emmy's Awards and 112 Nominations

There will have been 19,932 guest appearances in 33 years total

Regis Philbin holds the title of most Late Show appearances with 136

Marv Albert holds the title of most Late Night appearances with 73

There have been 11 different cities for Letterman's fictional Top Ten Office 
-Some Entertainment Exec's Salaries:
156MM David Zaslav- CEO Discovery
57MM Les Moonves-CEO CBS
46MM Bob Iger-CEO Disney
44MM Philippe Dauman-CEO Viacom
42MM Marissa Mayer-CEO Yahoo
40MM Josh Sapan-CEO AMC
38MM Rupert Murdoch-CEO News Corp
33MM Brian Roberts-CEO Comcast
33MM Steve Burke-CEO NBCU
33MM Jeff Bewkes-CEO Time Warner
28MM Chase Carey-CEO 21st Century FOX
23MM Peter Liguori-CEO Tribune
11MM CEO Reed Hastings-CEO Netflix
9MM Tim Cook-CEO Apple
8MM Ted Sarandos-CCO Netflix
6.4MM Jeffrey Katzenberg CEO Dreamworks
5.8MM Joseph Ripp-CEO 2014
2.5MM Chris Albrecht-CEO Starz
614K Mark Zuckerberg-CEO Facebook
175K Richard Costolo-CEO Twitter
For the record...
Average Teacher's Salary…58K
Average Doctors Salary…300K
-NBC's getting in on the Netflix action, sort of. They're going to release ALL 13 eps of their new show Aquarius after the broadcast premiere on 5/28. The eps will be available on NBC.com and the NBC Watch App for a month and will have a limited commercial load. With another program, Playing House, all eps will be release before the shows premiere. It's the perfect time to test the model after all the Season Finales and BEFORE Big Brother and all the Summer Shows get rolling. I despise David Duchovny, but I've always been intrigued by Charles Manson so not sure if I'm on board or not with Aquarius. Who's in? 
-Nielsen's going to begin measuring Roku viewing. Anyone know how many Roku boxes are out there? Having trouble finding this number. I only know 3 people with Roku. I should probably do a survey on this at some point shouldn't I? Note to staff: Figure out how to do this. Oh…wait, I don't have a staff. 
Friday's Trivia Question
: Roseanne and the Big Bang Theory who connects the two? 
WWTM-Kristy
Like me on Facebook at Watching Way Too Much
Follow me on Twitter at [email protected]
http://watchingwaytoomuch.com
[email protected]