These cupcakes are not exactly a health food. However, I've made them low in fat, higher in protein and still quite tasty. Just ask my biggest critics - my 6 year old twin girls. : )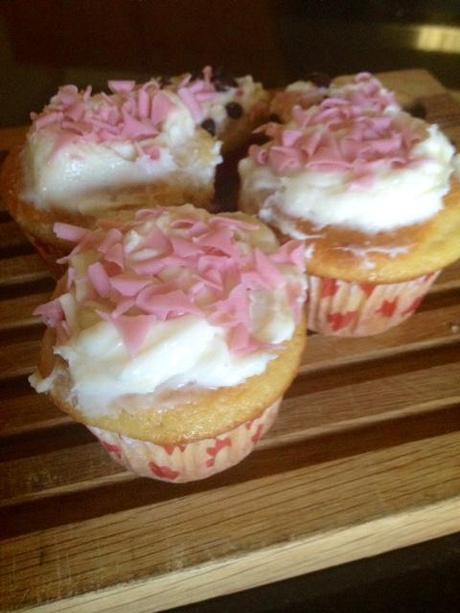 Adding more protein may be a challenge when working with baked treats. I tried one with 6 egg whites (plenty of protein) but this trial worked out more like a sweet Yorkshire pudding - still quite yummy, but not what I was intending. I wanted a light, fluffy yellow cake, so I went back to my mixing bowl. I started again, by substituting some of the fat for Greek yogurt, plain, nonfat (which does add in some protein to these delicious treats) and some protein powder. I would have loved to have tested a bean recipe, but alas, I didn't have Cannellini bean (only kidney beans which would have turned my project into a purplish thing) and I really was aiming toward a light, fluffy, yellow cake taste/mouthfeel. Here's the recipe.
Keep in mind this is a treat. I make no promises of low sugar quantity. (I was aiming more toward low in fat and higher in protein.) But every now and then, I like a sugary treat. I just keep it in moderation and on occasion. And what better time to enjoy than Valentines' Day. : )
No "Food Police" here. You can certainly Have Your Cake and Eat it, Too (Just remember moderation and on occasion).
Low-fat Cupcakes with Cream Cheese Frosting
Ingredients for Cupcake:
1/3 cup Greek yogurt, plain, non fat (I used Chobani)
1/3 cup Powdered sugar
1/4 cup granulated sugar
1/4 cup Smart Balance Light
1 tsp Pure Vanilla Extract
1/2 cup Pamela's Gluten Free Artisan Flour
1/2 tsp baking soda
2 scoops Vanilla Protein Powder (120 cal, 24g protein)
Ingredients for Cream Cheese Frosting:
1/2 cup Low Fat Cream Cheese
1 cup Powdered Sugar
1-2 Tbsp of Soymilk (as needed)
1 Tablespoon Butter (optional)
1 tsp Pure Vanilla Extract
Grease or line muffin tins. Recipe makes 6 regular sized cupcakes or 12 mini cupcakes. Preheat oven to 350ºF. Start with 1/3 cup Greek yogurt. Add in 1/3 cup powdered sugar and blend well. Follow with 1/4 cup granulated sugar, 1/4 cup lightly softened Smart Balance Light and a tsp of Pure Vanilla Extract and blend until creamy. Then I added my dry mixture 1/2 cup Pamela's Gluten Free Artisan Flour, 2 scoops Vanilla Protein Powder (120 cal, 24g protein) and 1/2 tsp baking soda. Bake for approx. 20 minutes or until fully risen and tops slightly browned. When cooked. Whip up all frosting ingredients in electric mixer until fluffy. Frost - using 1-2 Tbsp per muffin, depending on size (mini or regular).
Here is the Nutritional Analysis for 1 mini muffin, unfrosted.
Cal 87, Fat 2g, Sodium 65mg, Carb 11g, Sugars 7g, Fiber 1g, Protein 5g

Nutritional Analysis for the Frosting (This is for 1 Tbsp since I calculated for mini cupcakes above):
Cal 35, Fat 1g, Sodium 41, Carb 5g, Sugars 5g, Fiber 0g, Protein 0g.
Add both together and you've got a treat for less than 150 cal, a sodium content just over 100mg and one that is complete with 5g protein. How's that for a sweet treat with a little more protein. Wanna regular size treat - well doubling it up, this one would be close to 250 calories with 10g protein. I've seen frosted cupcakes on the market that are much closer to 500 calories. And besides this has no added fillers, chemicals, or artificial flavoring. BTW: The pink sprinkles are made with confectioners sugar and beet dye - very few ingredients (no artificial colorings or weird additives).
Happy Valentines Day!
ENJOY : )