I'm struggling to start writing this post, and to explain why I haven't posted in ages (possibly the longest time I haven't posted for ever!). I guess I have to be honest, and say that the past few months have been absolutely terrible. I didn't want to post too much about what was really happening because I like to keep the vibe of this blog positive, and I want to be inspirational to my readers.
Things always go wrong for everybody for many different reasons, but the important thing is to come out of the tough times wiser and stronger, having learnt what not to do in future. In my case, I learnt to never underestimate my own knowledge and experience. I know exactly how to ride my horses, and I know exactly how to look after them and give them everything I need. But it is so easy to fall into the trap of letting people tell you how it should be done, when you already have your own way which works perfectly fine.
If you let people walk over you and tell you how to do everything, you can't help but have your confidence destroyed. Considering horses are the most important thing in my life, if I am lacking confidence in what I do with them, of course every day is going to be tough. Everything had to go wrong for me to realize this, so now I never ever doubt my own judgment and take charge of what I do. Of course I take things on board, but I make my own decisions now.
So, as part of the process of picking myself back up, I am now typing this post from Belgium, halfway to Germany with two cars packed full of mine and Seb's stuff! Yup, I am basing myself in Germany for a few months over the summer to train and compete, and to be there for Chad's development a bit more. Seb is already at Leonie's barn, and I will arrive tomorrow.
Julius is back with Sue McMahon and Gary Mckenna at Cheltenham Dressage, as they absolutely adore him and Sue gets along with him really well to ride. He can chill in the field all day and eat grass, and Sue can even take him out to a few competitions if she likes. The best thing is that I can go to Germany stress-free and knowing he will be looked after perfectly, especially as I was so upset I couldn't also take him with me!
Usually when I go to Germany my mom drives, but this time we are both driving, and I'm driving my own car by myself! I wasn't too worried about doing the long distance across England, but when it came time to drive off the train and into France, I started freaking out. I would have to drive on the otherside of the road... I can barely drive properly on the normal side of the road! It turned out to not be at all as hard as I expected, the roads here are actually really nice to drive on! No really, I was thinking to myself as I was driving.... wow it's so smooth, so quiet... then realised I was getting a bit too absorbed in the smoothness of the road and should start concentrating again :P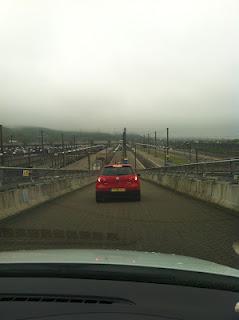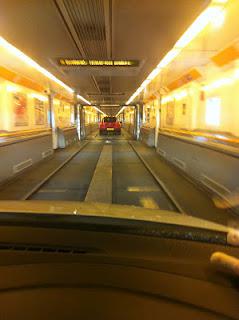 So everyone, look forward to lots of updates as the old Casey is on her way back with her fighting spirit blazing!!