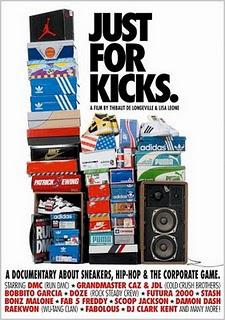 How much importance do you give to the shoes you wear? In fact how much money do you spend on a pair of sneakers? Are your shoes there just to provide comfort, or do they mean something more to you?
Just for Kicks is a documentary by Thibaut de Longville and Lisa Leone that looks at the craze that surrounds the world of sneakers. From collectors who buy 4-5 pairs of the same shoe to die hard fans who fly half way across the world to score a hard-to-find pair, sneakers seem to be an obsession like no other. This craze for a pair of shoes was completely alien to me till I viewed the documentary. The passion that these individuals have for a sneakers is almost unfathomable and the energy and time spent by them unimaginable. But then again, we all have our obsessions and eccentricities.

  
The documentary starts off with the origins of this craze. Run DMC, a prominent hip hop group, made Adidas a household name by promoting and wearing them everywhere they went. Initially they did this without even having any sort of a contract with the shoe brand.What had been purely a sports shoe till then, became a fashion icon thanks to Run DMC. This cult status that Adidas achieved eventually got the hip-hop band a one of a kind multimillion dollar deal and so started the trend of music groups promoting different shoe brands.

Just for Kicks looks at all aspects of the sneaker lifestyle. From the advertising to the special graffiti artists that make limited editions sneakers which sell at a premium to Michael Jordan and his revolutionary Jordan Air commercials and promotions. The documentary works well because it keeps everything interesting and fresh. There is music and colourful characters being interviewed along with astounding sneaker statistics flashing on the screen from time to time.
I would happily give Just for Kicks a 4/5 star rating because it is a fun documentary. It's informative and although to someone like me it might mean very little (since I only own one pair of sneakers at a time), but nevertheless it is a window into the world of sneakers that I knew little of. I do know that the next time I pick up a pair I'll be hoping and praying that someone from the other side of the world will one day call me and pay a premium for it. Now that would be a real kick!