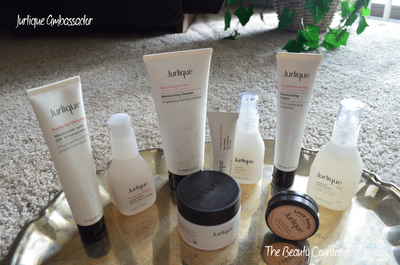 I feel honored to be part of the Jurlique Ambassador program. I've been a long time fan of their products, dating back in 2008 when I first tried out one of their products, the Jurlique Citrus Purifying Mist ($31). Launched in 1985, Jurlique is an Australian company that is known for their high-performance skin care products. Their formulas are complemented with the finest, most potent, bio-dynamic, organics and natural ingredients sourced the world over. I'm happy to say that they're one of my top favorite brands. Therefore, it was beyond exciting to be affiliated with this company in this way!
I recently received a bevvy of their products to try out and review for the next few months. This includes the Rosewater Balancing Mist ($22), Herbal Recovery Gel ($48), Herbal Recovery Night Cream ($48), Rose Moisture Plus with Antioxidant Complex Moisturising Cream ($42), Rose Moisture Plus with Antioxidant Complex Moisturising Cleanser ($22), Purely Sun-Defying Moisturizer with SPF 15 Sunscreen ($58), Purely Age-Defying Eye Cream ($45), Love Balm ($6.50), and Purely Age-Defying Facial Serum ($65).
In an addition to the reviews, I'll also be able to provide giveaways, a wealth of information regarding their products, and much more!