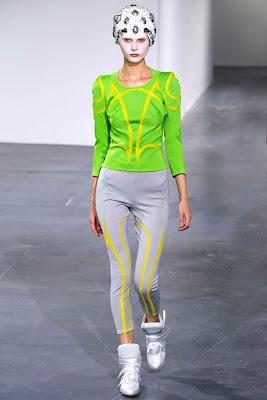 Apparently sportswear is a big trend at Paris Fashion Week.
Here's a pic taken from Japanese designer Junya Watanabe's Spring / Summer 2013 collection.
There is a strong case for wearing a helmet at golf events as some golf pros just can't hit the ball straight.
If you get the chance to view the whole collection there are some fantastic designs. I especially liked the jackets and coats. My only gripe, they should have been made using recycled polyester.
But if I were a female golf pro with a few quid in my back packet I'd be giving him a call.
----------------------------------------------------------