You've got a bit of a different background today since the weather is lovely outside and I thought why not get the camera out too since my July favourites are long overdue. This months favourites were easy peasy to choose as they were my staple items on holiday and saw me through my 10 days in the sun.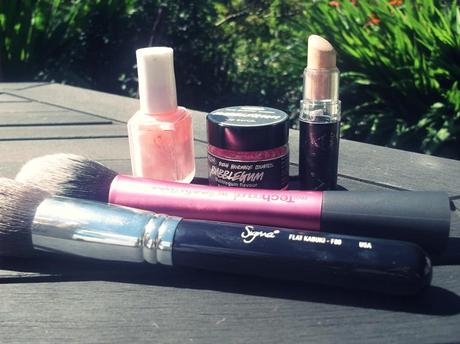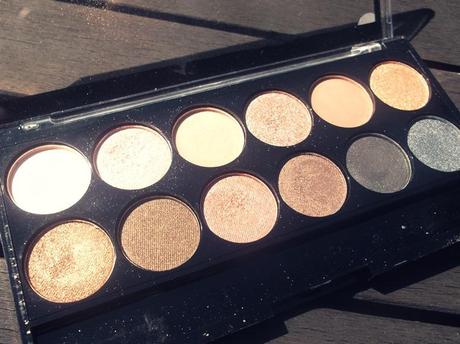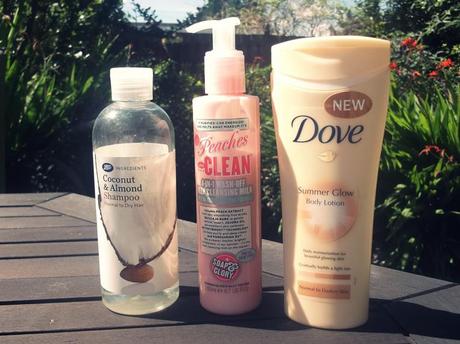 Sigma F80 Kabuki: This was my brush of choice for liquid foundation when I was away and for good reason too as I love the finish it leaves on the skin. As I was wearing a lot less foundation I was worried that there wouldn't be enough coverage or that it would come out in patches but the brush absorbs very little product which means a little goes a very long way and you are left with an even finish on the face.
Real Techniques Blush Brush: The blush brush is the newest in my collection and I'm so glad I could finally have my hands on it as it is the perfect size and shape for applying blush. I was previously using an old and unnamed brush for powder but it has now been replaced by this beauty and is long gone. What's even better is that I didn't need to spend a penny on it (well, technically), thank you Boots points!
Essie Van D'Go: It's no secret that Van D'Go is without a doubt my favorite shade of nail polish and of course it had to be the one for my holiday. It is the perfect shade of pinky peach and looks so good with a tan, and what's even better is that I managed to go the full 10 days with hardly any chips and even without a topcoat. I was in a bit of a panic when I first unpacked my case in Turkey as it looked as if the bottle had smashed but thankfully it had only opened, meaning it was good to go after a clean phew!
Lush Bubblegum Lip Scrub: I'm a sufferer of dry lips at the best of times but even more so in the heat, so I knew I had to pop this lip scrub into my makeup bag. A quick wipe of this scrub over the lips gets rid of dry and flakey patches and the taste is a yummy bonus when it comes to licking off the rest of the scrub. I have been using this jar since Christmas and there is still only a small dent in the product so it will definitely be lasting a long time.
MUA Concealer Stick: This stick was becoming a bit unloved in my makeup drawer so I thought why not take it with me and give it a proper go, and I'm happy to say that I've really enjoyed using it. I haven't always been the biggest fan of concealer sticks as they tended to make my dry skin look even flakier, but this one has been great for still looking natural while covering blemishes. What's more, it's from the £1 range so it's an absolute steal.
MUA Undressed Palette: This new palette has been getting a lot of love in the blogging world since being released and I can definitely see why as the shades are gorgeous and great quality as always, especially for just £4. I don't own nor have tried the Naked palette so I can't compare the 2 but from reading over blog posts and swatch comparisons it is quite obvious how similar the 2 really are. I'd gladly keep paying £4, thank you very much.
Boots Coconut & Almond Shampoo: I decided to give this shampoo a go after using the Intensive Mask from the same range and I think it has been great for giving my hair a bit more life and moisture, especially for my dry ends. My hair was always looking very healthy and shiny on holiday and I have this shampoo to thank for it, so well done on a great and affordable shampoo Boots!
Soap & Glory Peaches and Clean: I've already raved about this cleanser and had to put it back into my favourites as it was my cleanser of choice on holiday. My skin was always left feeling so clean and fresh after using it twice a day, and with a boyfriend approved peach scent you really can't go wrong.
Dove Summer Glow Body Lotion: I decided to take this gradual tan moisturiser on holiday in case my fair skin didn't take to the sun like it usually does and it definitely did the trick for adding a bit more color to my skin without looking like fake tan. Although I did get a fairly good natural tan for a change, this moisturiser was still great for toning down any burned parts of my skin and blending it into a healthier looking tan.
So there you go, another month is over in a flash and I seriously can't believe how fast this summer has flown by. There's just over a month before I return for my final year at university and the dissertation stressing has already started, along with yet more jobhunting and what seems like a hundred birthdays going on in the month of August. I hope you're all had a lovely month and I'd love to know what have been your favourites lately!