~ JULY EMPTIES ~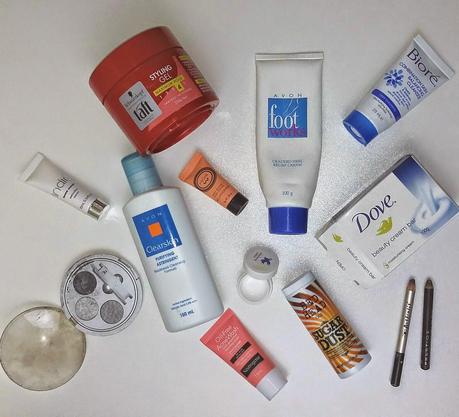 Physicians Formula Eyeshadow Trio in Baked Smokes
Used this to death and loved it! Bit more into browns and golds now
a days, but this little trio has served me well. A beautiful shimmery
mix of black and greys. Lovely quality!

Schwarzkopf Taft Styling Gel
Have to admit, I had a fair bit of help with using up this product with my man.
So I can vouch that this product works for both men & women! :)
Indio Renew Cream
(Sample)
Got quite a few uses out of this little tube as a day and night cream.
Quite a nice cream, I enjoyed using it.
Avon Clearskin Purifying Astringent
I've been sooo good at remembering to use a toner over the past few months!
Ever since I dove into my mountain load of products stashed away to see what
I should be using up to have something for these empties posts where I
found about 5 different barely used and un opened bottles of toners!
Doh! Always the best intentions when I purchase, then I get lazy or forget....
Loved this one. Avon products are so affordable and always seem to agree
with my skin and do a great job.
Neutrogena Acne Wash Foaming Scrub in Pink Grapefruit
(Sample)
Once I've shrunk down my product supply a bit more I would really love
to stock up on this one! The smell, ahh!! It is sooo good! The transparent light
pinky, peach, grapefruit color is so pretty and it has a good amount of scrub
in it.
Mor Body Butter in Belladonna
(Sample)
Who doesn't love MOR products!?
This was such a small little tube it didn't take very long to use up.
The smell is divine, such a beautiful, luxurious body butter to treat
yourself with.
Mukti Botanical Cleansing Lotion
(Sample)
Only got one use out of this tiny pot, it felt highly moisturising
and creamy. A lovely feeling, smooth lotion which left my skin feeling
really soft and smooth afterwards.
Avon Foot Works Cracked Heel Relief Cream
One of my top moisturising creams which I recommend especially
during the winter months as it's extra thick and perfect for dry, hard
and/or cracked skin.
More about this product...
Bed Head Tigi Sugar Dust
A starchy, dry texture perfect for slightly greasy hair.
Revives and gives you a fresh, clean feeling when applied and worked in.
Biore Combination Skin Balancing Cleanser
Great for greasy, acne prone skin as I found this quite drying.
My skin is acne prone, but not overly greasy, so I only used this a few times a
week as it was just too drying to use everyday for my skin. Foams up nicely though.
Dove Beauty Cream Bar
An all time, classic beauty staple and firm favorite.
Doesn't dry your skin out and lathers up into such a beautiful, soft lather.
Long lasting and smells subtle and clean.
More about this product...
Australis Black Eyeliner Pencil & Prestige Black Eyeliner Pencil
Dug these eyeliner pencils out of my collection and decided it was time
to say goodbye. They've had a good long life with me, but sadly many
other new and exciting rivals are competing for my attention.
These have both been superb pencil liners. Easy to work with,
I would repurchase again once I run low again.
Love Candy!xo
Missed yesterday's post?July Favourites!
Have you entered my GIVEAWAY?Enter Now! :)
Let's follow each other!
Facebook | Twitter | Youtube | Instagram | Pinterest