Sorry pretties, I know I was supposed to post this two days back but I've got myself in this super lazy mode. I open my laptop to write blog posts but somehow end up reading beauty blogs, checking out online stores and watching you tube videos. Today I was determined to write at least one post and so at 4.10 a.m here I am presenting part 2 of my July and August haul. Those who missed part 1, here's the link if you want to take a look at the stuff I bought. I thought I would cover the remaining products in part 2 itself but realized it would be an overdose so watch out for part 3. In this post, I'll show you the bath, body and fragrance products that my mom and sis-in-law got for me from Singapore. Yes, I know..they are super sweet!. They got for me a lot of makeup as well but that's coming up in the next post. Let's focus on this one now.
Here's the list:
1. Sheet masks2. The Body Shop Coconut and Blueberry body butter (not released here)3. Burt's Bees, Victoria's Secret, Bebe Body Lotions. No idea why she got a Baby Bee lotion but it smells great and so what if its for babies?4. Hand Creams and Body Scrub from local brands and Soap & Glory5. The Body Shop Mango and Strawberry Body Mist6. Victoria's Secret Body Mists
And now the pics..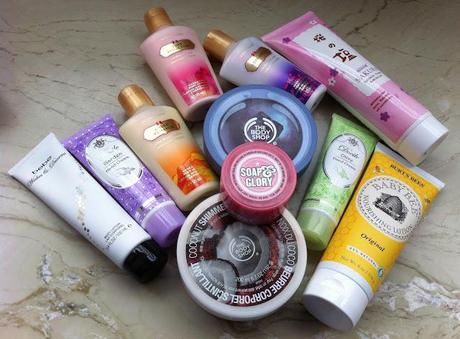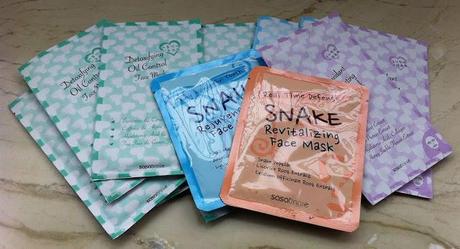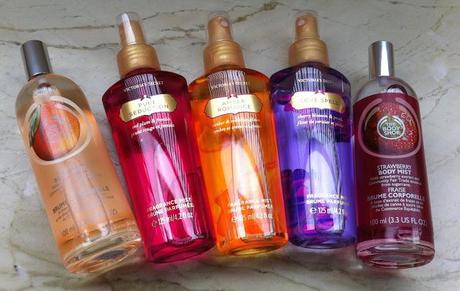 Will be back with part 3 of the haul tomorrow (if I get back to my energetic blog posting mood that is). Meanwhile, which product caught your eye?