July marks the month of the 'cross-over'... the month where instead of hanging below last year's sales we moved above last year's sales. While being 32.5% above last year sounds pretty good, with last year's huge drop in sales from June to July we would be in sad shape if we weren't higher than last year! Year-to-date sales are only 3.7% behind last year... not bad, given how we have been hanging behind last year the last few months... I guess we catch up next month.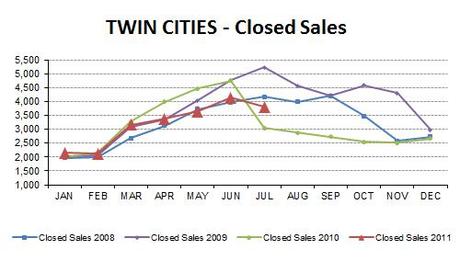 July did show a drop from June both in closed and pending sales. Sales may have been impacted at least in part by uncertainties in the economy... both by the state government shutdown and national budget struggles. And then of course there is summer in Minnesota... perhaps having a bigger than usual impact because of the long, cool, wet spring.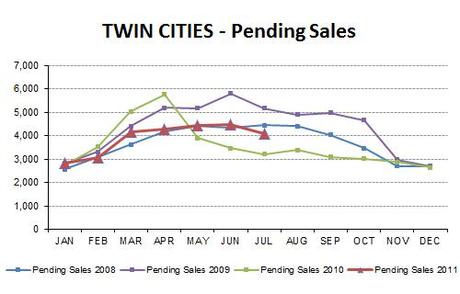 Prices softened a bit, with median price at $160,000... down from $165,000 in June, but nevertheless higher than the rest of this year. The property type with prices most affected compared to last year is condos, down15%... townhomes were down 12.9% and single family houses down only 5.6%.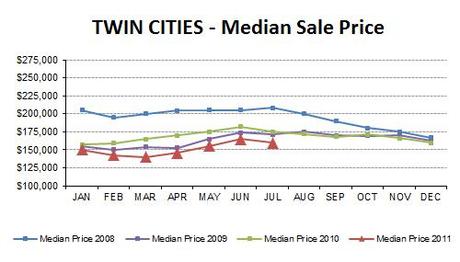 July job gain was greater than expected... interest rates have plummeted again this week, got notice of fleeting 30-year mortgage rates under 4.0% during this volatile week. Affordability took a bump up again... this continues to be an awesome time to buy a home if you are financially ready.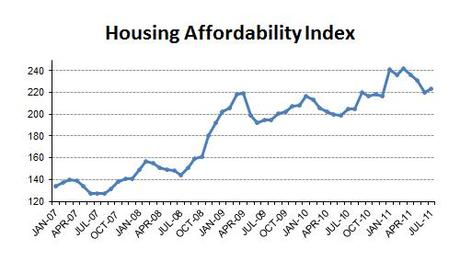 Overall months supply of inventory was at 7.6 months (balanced market is 5-6 months)... with 7.5 months for houses, 7.0 months for townhouses, and 9.9 months for condos.
The figures above are based on statistics for the combined 13-county Twin Cities metropolitan area released by the Minneapolis Area Association of Realtors. Click here for local reports on 200+ metro area communities. Click here for current interactive market analytics by area, city, county, neighborhood or zip code.
Sharlene Hensrud, RE/MAX Results - Email - Minneapolis - St. Paul Real Estate Market Information