Finally I am back in Germany! My two weeks in England is over; College is done and Julius has been operated on successfully.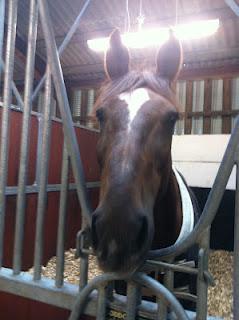 Julius before the surgery...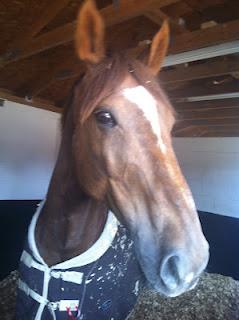 Julius after the surgery... Still happy!! :)
I'll start with Julius, as that is by far the more interesting topic! Carrying on from the last post, he was booked in to do his surgery last Friday. I didn't end up being able to go and ride him though, as he was too sore and it wasn't worth it. So he had a jolly old time in the field, lucky boy! The surgery all went well, and in fact his back was so bad that two of the vetebrae had actually fused together, poor thing. He looked very chipper though when we picked him up the next day which was good. It was a lot nicer to see than after the last time he had a surgery, which was his life-threatening colic surgery. This time he wasn't hanging from a drip with a tea-towel stitched into him.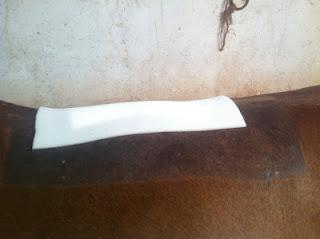 His bandage and a big bald patch!
He is living in luxury now back at Cheltenham Dressage with Sue and Gary. His wound isn't too bad either, just quite swollen with a few stitches. He has to be hand-walked for four weeks, starting with five minutes twice a day, working up to 30 mins twice a day. Then he can go in a small paddock and be lunged on the Pessoa for another four weeks, and then his back should be strong enough to have the saddle back on. By that time, I will be back in the UK with him and able to work him back up to the level he was at before, but this time hopefully better!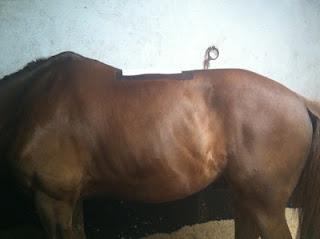 My two weeks at college were actually surprisingly good! I really enjoyed being back in the classroom, learning and writing. I have always liked to study, but unfortunately my desire to ride is a lot stronger so when I found the riding was getting sacraficed to do homework I let college take a backseat and left. Now I am looking forward to going back in September and finishing once and for all, and hopefully I'll be in a better position to juggle my studies and riding! I've got no choice actually, as I'll have three horses in work now instead of two.
I do regret leaving, I'm not going to lie. Especially when all of my Hartpury College friends were just doing their final exams while I was in the UK last week, and then celebrating the finish of them with tears of joy and sadness that they will be leaving and entering the real world. And there I was, still having another year to go before I could be like them. It was fun to go out and party with them to celebrate though!
So now I am back in Germany with Seb and Chad to continue to learn how to make them superstars. I rode them both today and they went so well, even without Leonie or Martin (the Berieter) there to help me! It's a good indication that we are getting there. Seb has never felt so correct before, it is so exciting!! With him the trick is to make sure you have a contact that he can be driven into, otherwise he just ducks behind it and you have nothing in front, no shoulders to control, and no where for the power that his hind end is creating to go to. It is a very fine line between pulling, giving too much so he can't find the contact, and then holding the rein like a side rein that provides pressure but doesn't pull back. It takes concentration and a hell of a lot of technique to get that balanced with seat and leg pressure!
I have six more weeks of fabulous German training, then it's back home to England (did I just call England my home? I guess it is now....!) to go it alone and hopefully develop more of my own system of training, based very much on Leonies!