Julep: More than Just Polish

Can I take a moment to say how much I love my Julep Maven deliveries every month? I'll admit that out of all the beauty boxes, Julep has never let me down. I haven't received one box that I was disappointed with. I have to give fierce accolades to them for making me feel their products are worth my earned dollars.
I love the polish colors that Julep sends me every month but I think the company is hitting a high note by sending more than just polish. For both May & June, I received the New York Jazz trio of lipsticks. I loved the trio because it included a bold matte color (Lady in Red) and 2 sheer colors (Satin Doll & Tea for Two). I received 2 polish colors Millie & Alice along with some adorable hair pins. This month, I received the colors Dianna & Lexie along with Julep's Dynamic Do-all makeup. I like the fact that this make-up has sunscreen in it. One of the misconceptions that African-Americans have is that we don't have to use sunscreen. We do not easily get sun burned; however we are at risk for skin cancer due to sun exposure. With that being said, make sure you use sunscreen to protect yourself.
Take a peek at the items I received: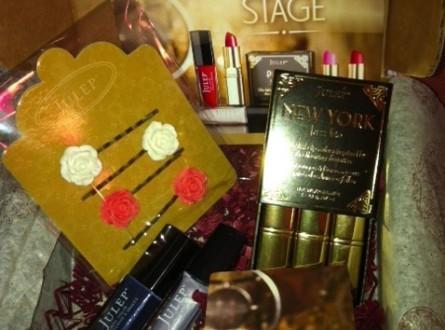 These colors are perfect for the summer. I plan to use Dianna & Lexie for my upcoming trip to Las Vegas at the end of the month.

Have a great weekend!