I received this box about a week. I have been so swamped with work and getting Ari back to the swing of things of going back to school, after being off for what seemed like a whole month for Winter break. So now I'm back at it again.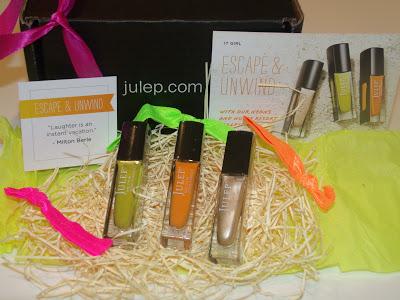 Funny story about this box...
When I first got the box, I opened it like I normally do. Sort it out all pretty and take a picture. The colors are so pretty, I knew I wanted to swatch them right away...only I had just finished doing my nails. Good thing I remembered that I just bought these nail swatch rings that I can paint and be able to show off the pretty colors.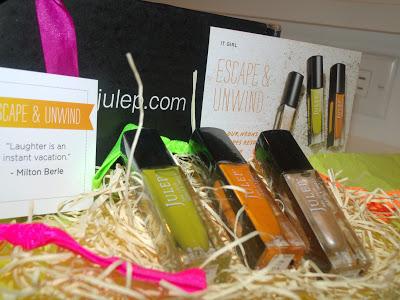 I get all the colors set up, and I placed them on my little folding table, I turned to get something and completely knocked one of the bottles of polish all over the floor. Cool if it was on carpet ( besides the messy cleanup), but not cool when you have floors like mine that are made of a ceramic like tile. "sigh".
So needless to say, the bottle was destroyed, but I did get to swatch it before it fell. Ha! take that clumsy Gods.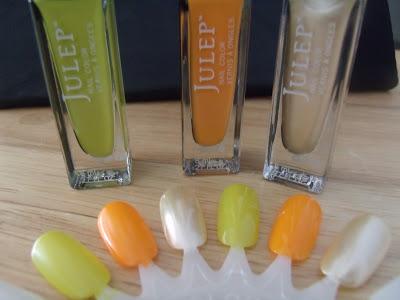 Here we have from left to right: Nikki ( yellow), Nina ( Orange) & Amelia (goldish tone.. RIP).
I did two types of swatches, one with a clear coat and one without.
It's a bit hard to tell, but the three colors starting to the left of the screen do not have a clear coat.
Nikki and Nina I applied 2 coats. They dried very matte and quiet fast. I actually like the matte look on nails. Gives it that rustic look, but still a bit chic.
Amelia took about 3 coats to get it to the color in the bottle. Over all I did like Amelia before her demise :(
I can't wait to enjoy these in the spring, reminds me of Easter eggs for some odd reason.
If you are apart of Julep, what box did you get? Please share in the comments!
XOXO