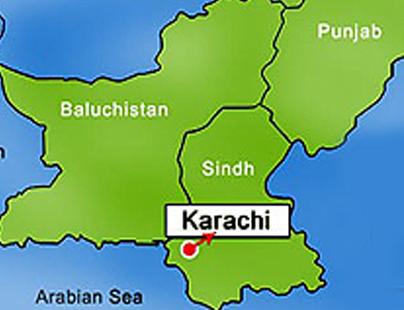 The bloodshed in Karachi continues and at least 12 people including the worker of a religious party were killed and seven others injured in the fresh incidents of violence in different areas of metropolis.
42-year-old Mufti Abdullah, the worker of Jamiat Ulema-e-Islam (F) was shot dead by unknown identified persons in Orangi Town sector-10 of Mominabad area. Tension prevailed in the area following the incident as infuriated people took to the streets and pelted stones on vehicles, burnt tires and blocked roads.
Unknown armed men gunned down the owner of a marble factory Ikhlaq Hussain, 40, in Pirabad area and fled the scene. Police has regarded it as target killing.
A body of 30-year-old unidentified person was recovered from Maripur who was tortured before being murdered.
The dead body of a 35-year-old unidentified person has been found near CMB collage while the body of a 10-year-old boy, identified as Yaseen, was found from the bushes near sea.
Unknown men killed 25-year-old Sarfraz in Orangi Town area. Also in Orangi Town 50-year-old Nazim Siddiqi was gunned down by unknown persons near a medical store.
18-year-old Asad Pathan was killed by unknown men near PIDC chowk.
Unknown armed motorcyclists opened fire near Gulzar Hijri area, injuring a 32-year-old unidentified person, who succumbed to bullet wounds in Abbasi Shaheed Hospital.