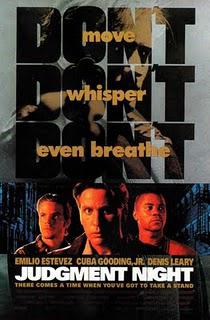 The best part of BBC iPlayer is that sometimes you can catch a fun movie while surfing it. Judgment Night is one of those typical 1990's thrillers that I so enjoy. It's not cheesy but it is also not what I would call a classic.
Four friends, enroute to a boxing match end up on the wrong side of a gangster when they witness a cold blooded murder in a deserted and economically backward part of the city. The cast is quite stellar for the time (1993) with Emilio Estevez, Cuba Gooding Jr., Stephen Dorff, Jeremy Piven, and Denis Leary.
The movie in a nutshell is a chase movie with the four friends on the run from the gangsters, but it works as a good psychological study for people's behavior under pressure. Moreover, the four friends test the bounds of their friendship as they make a run for it.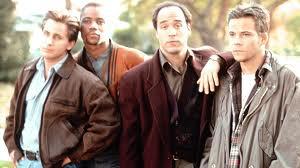 As a thriller the movie succeeds brilliantly. There are quite a few "jumpy" scenes and a few "turn around he's behind you" ones. You can feel the tension of the characters throughout. What I found really interesting was how the characters showed hints of their future award winning performances. Jeremy Piven is a dimmed down version of Ari Gold from Entourage and Cuba Gooding Jr. had a certain something similar to his role in Jerry Maguire. Dennis Leary as the conscious lacking gangster was villainous to the max, just the way it should be.
Judgment Night keeps you entertained and surprisingly is low on the emotional content keeping the movie fast paced and exciting. So make sure you catch it whenever it's on TV. If in UK you can presently catch it on BBC iPlayer.
A pleasant 3.5 stars our of 5.