~  JORD WOOD WATCH  ~
Sidney Design
 Maple & Rose Gold
http://www.woodwatches.com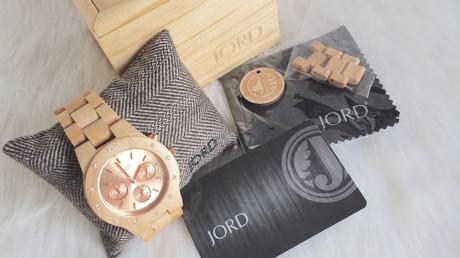 I have never had a good track record when it comes to owning a watch. They always seem to stopworking, break, crack, chip or I just loose them! To begin with I have never really invested a wholelot of money into owning a good quality watch so that could probably have something to do with my'bad luck'.
I haven't worn a watch in years even though I have been wanting to purchase a good one to last me hopefully the rest of my life, I just haven't gotten around to it. So as fate would have it I was recentlycontacted to try a uniquely hand made and designed good quality piece that I can see myself wearing till the day I die. 
Introducing my new Wood Watch all the way from St. Louis USA, this rose gold beauty is made from maple wood, sapphire crystal glass and features Swarovski crystals! Doesn't it look beautiful? I am a tad obsessed with this at the moment! I have found the neutral earthy tones match all of my outfits too!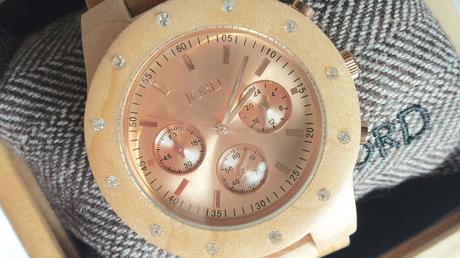 JORD offer a wide range of different designs and watch collections and this particular one I chose from their Sidney series offers just about everything you could ever require on a watch face includingyour regular second hand as well as a 24 hr hand which is the circle on the right. Then there is thechronograph minute hand to the left and lastly the chronograph second hand to the lower middle.
This watch was made to fit my small wrist, however I was still generously sent a few extra links justin case. Links can be simply removed or added to as you please to ensure the watch fits perfectly.
These pictures below demonstrate how easily the watch clasp clicks open and closed neatly for you to wear. This watch is super comfy and the wood is so smooth to the touch!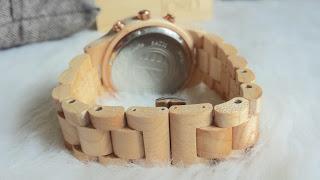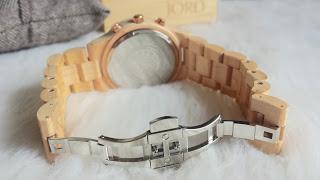 I have been styling this beauty with my perfectly matching rose gold semi skinny cuff from LumiereJewellers which I am also completely obsessed with! Now I can wear them both together and theylook like sisters. :)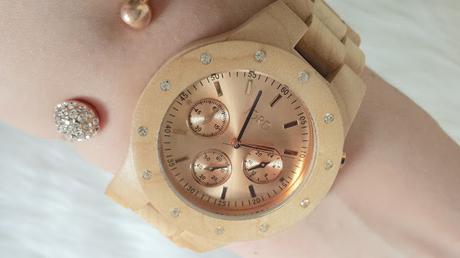 The three crowns neatly placed on the side of the watch like most watches work in setting the timeand date on the face of the watch. The middle unscrews counter clockwise for the general time andthe two to the sides set the other three. It was a bit confusing to me at first, however rest assured youreceive a very detailed instruction card inside your wooden box with your watch with everything youneed to know about how to get your watch set just how you want it.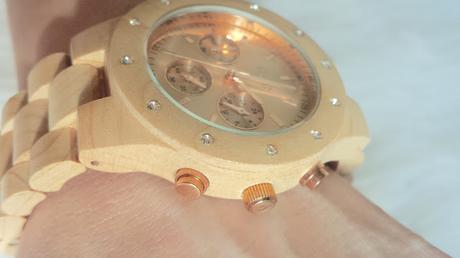 JORD Wood Watches offer FREE SHIPPING world wide and offer a one year warranty on all theirpieces.
Are you a watch wearer? Tell me your watch style!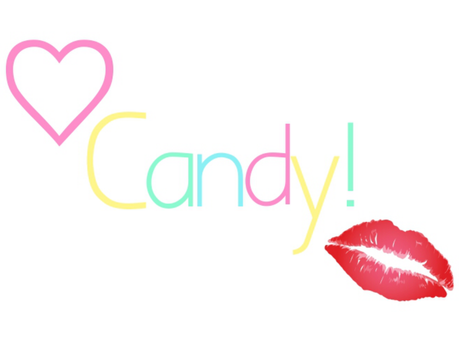 Missed my last posts?Harvest Garden | IrresitibleMe Hair Extensions | Boe Base-ics! | Carol's Beauty! | August Empties!
Related Posts!Forever New Fashion! | Spring OOTD! | OOTD On A Budget! | Get The Most Out Of Your Cheap Jewellery!
Let's follow each other! Facebook | Twitter | Youtube | Instagram | Pinterest | Bloglovin' | Google+

*This product was kindly sent to me for consideration/review. 

*All photographs & opinions are all 100% honest & all my own