When you find out you're expecting, you immediately think of the things you need, Moses basket, cot, nappies, clothes etc etc, one of the hardest things to choose is the pram, what make is best? What style do I need? Shall I get a second hand one or buy new? How much shall I spend? What features am I looking for etc......ill be honest, I looked around and got so stressed with the choices that I gave up looking, we were then given one second hand when Abbie was born, so we used that..we had been looking for a new pushchair for Abbie now that shes toddling about and wants to see the world...we were then contacted by a company called Joolz, I'd not heard of them before, and to this day I can't quite understand why..I immediately fell in love with the design just by looking at the website..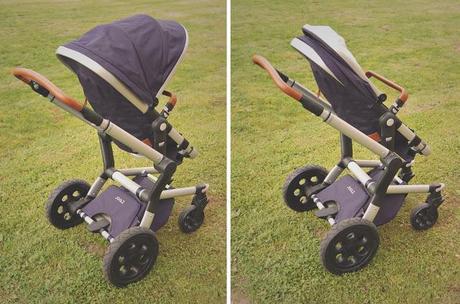 There's just something about this brand that makes me excited, it could be the sleekness, the gorgeous design or even the simplicity of it, I genuinely believe this is the pram every mother needs! You should've seen my face when it arrived..I was like a child at Christmas! Jumping up and down and everything...ha. My first impression was how gorgeous it was, it was easy to put together and didn't take too long at all! It's just beautiful, from the nifty storage basket to the leather handlebars..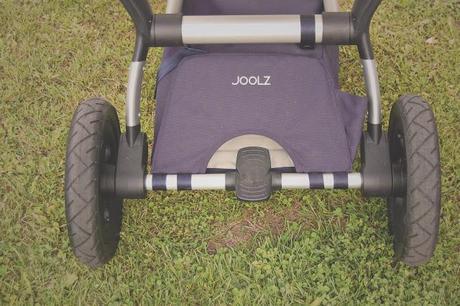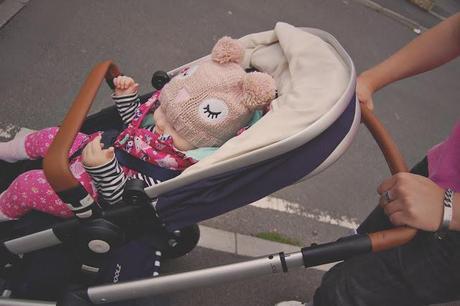 Pro's
Easy to manoeuvre

Gorgeous design

Large magnetic secured shopping bag

Easily adjustable (foot rest, handlebars & tilt)

Comes with carry cot

Comfortable

Sturdy and strong

Great on all terrains

Grows with your baby

Easy to clean

Has suspension

Option to have fixed wheels
Cons
I think the only con I have with this is that it is rather bulky and large, which means it takes up a bit of room when you're not using it, but it really is a small price to pay for all the pros it has..
From the first day I tried it I just knew it was a special pushchair, sounds cheesy I know! It is so sleek and stylish, much different from any i've ever seen before..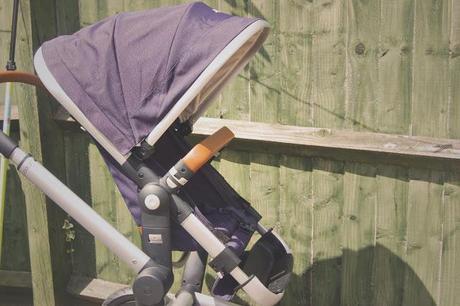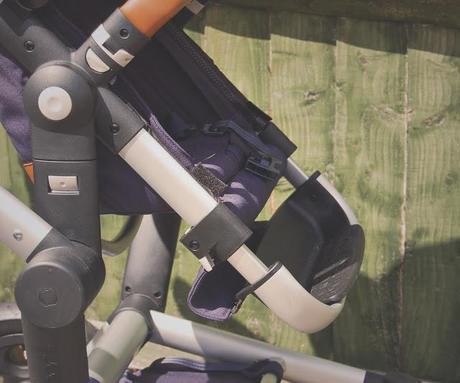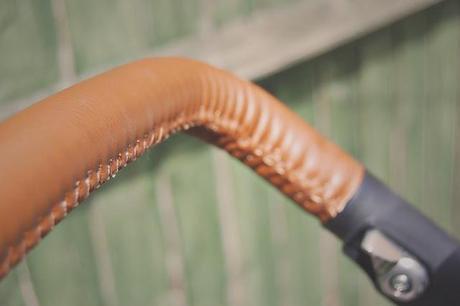 So there you have it! Our review on the wonderful Joolz pushchair, if you're looking for a stylish, modern, sturdy, beautifully designed and superbly crafted pushchair, here you have it..Joolz! Everything you could possibly need and want all in one!
Read on to find out more about them..
Something completely unique Joolz have created are special 'All terrain wheels' which come with the Joolz Day pushchair, with bigger front wheels to prepare you for any journey, from dry sand through to muddy puddles, your baby now technically has his/her own 4x4 now! Ha.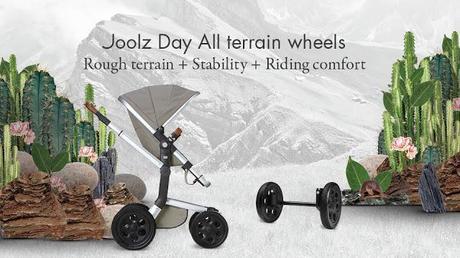 "Walking on rough terrain, in nature or in snow with a pushchair can be stressful for young parents. Rough roads can turn a short trip easily into a real challenge. To make it easier for parents and even more comfortable for the child, Joolz developed the new All terrain wheels. Walking on a rough terrain or snow is still comfortable when the Joolz Day is equipped with the new All terrain wheels because the large front wheels offer stability and driving comfort under these tougher conditions for parents and child."
INTRODUCING: Joolz Day Studio!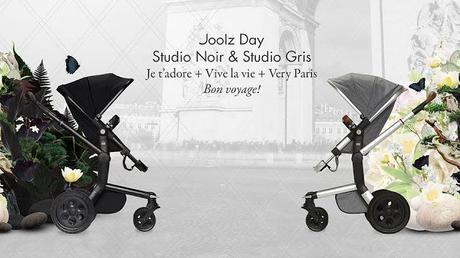 "Crafted with beautiful details and designed for a romantic stroll at the boulevard, the new Joolz Day Studio Noir & the Joolz Day Studio Gris are very 'Ooh La La!'. 
With double stitched lining, black wheels and stunning fabrics this French double treat is our first result of the new Joolz Studio platform.
Inspired by French romance, the leatherette handle and bumper bar, and the fabric interior are decorated with detailed double stitched lining. The fashionable black Joolz Day Studio Noir and reversed-denim Studio Gris come complete with a chassis, cot, seat, shopping basket and rain cover. The nursery bag, foot muff and parasol are also available in matching colours."Visit the Joolz website for more!