Sometimes the superstitious need to knock on wood comes along and there's just nothing suitable near by. I have experienced a couple of these silly occasions over the past week. An easy solution for this would be to have some wooden jewelry to wear, so there's always a piece handy for such situations. Here are some of my favorite wooden pieces.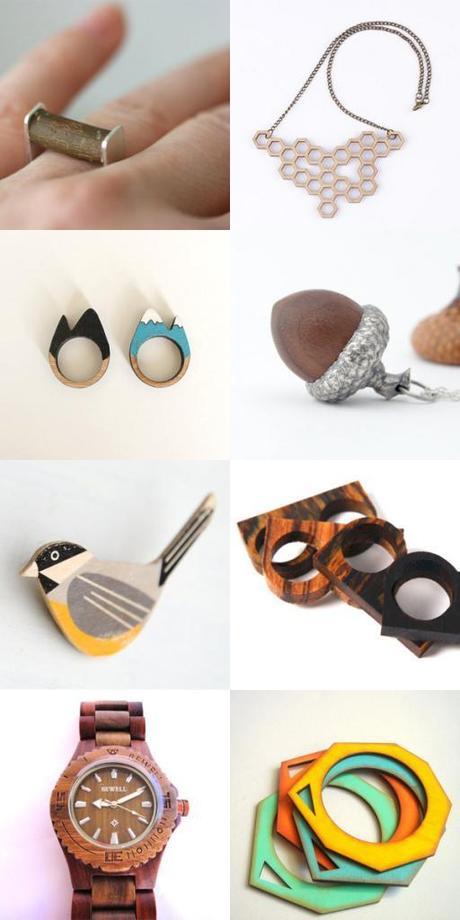 1. Segment Ring by A F Jewellery. Love the natural looking wood and the way it sits on the finger, between the silver.
2. Honeycomb Necklace by Indomina. This fantastic honeycomb pattern makes for a great statement necklace.
3. Silhouette Mountain Ring from Whimsy Milieu. This ring is so cute. Love the idea of having a mini mountain on my hand.
4. Acorn Necklace by Lucie Veilleux. Another great mix of wood and silver. Such a beautiful contrast between the textured silver and smooth wood.
5. Bird Brooch by Studio Liscious. Love this jolly little bird brooch. The colours and worn texture are so very pretty.
6. Double Finger Ring by Acorn and Archer. A simple design that comes in a wonderful selection of woods. And I'm a sucker for a double finger ring.
7. Wood Watch from The Trendy River Shop. A very handsome time piece that's eco friendly too. Bonus!
8. Geometric Bracelet by LiKeGjewelery. Gorgeous bright colours, in an interesting and unique shape. Would look great worn all together on a summers day.