I have been busy making up some more white geometric earrings to go in some of the Blogcademy's goodie bags. My white collection always makes me think of the moon, especially the double finger ring that brings to mind a rocky moon scape. I do enjoy a good moon motif so thought I'd put together some of my favorite jewels based on this celestial shape.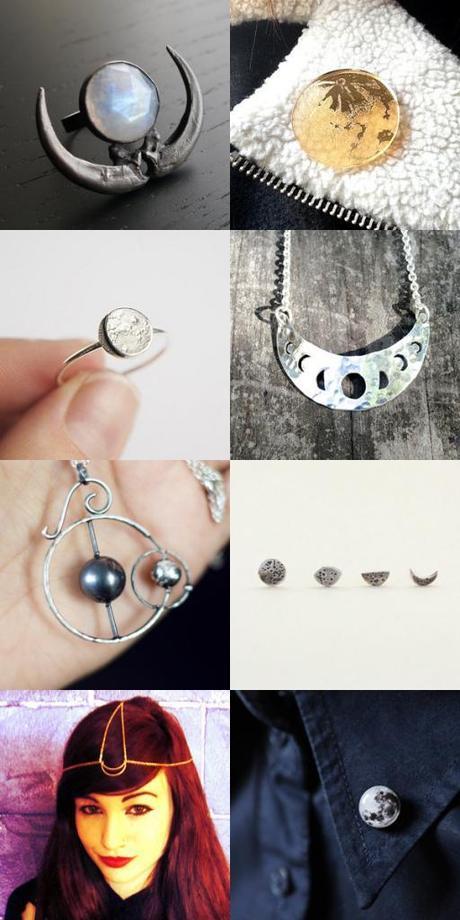 1. The Raven Moon Ring by Charlotte Burkhart. I love the color of this stone. It looks so perfect next to the oxidised silver.
2. Golden Moon Laser Cut Brooch by DBIllustrations. This brooch comes in a variety of colours but I love the gold. It looks so radiant.
3. Under This Moon Ring from gemagenta. This shop is full of fabulous moon pieces. This simple ring is one of my favourites.
4. Silver Moon Phase Necklace by Raw Elements Jewelry. This big statement necklace is a striking piece. I love the hammered effect, it adds an extra dimension and plenty of shine.
5. Earth, Moon and Sun Pendant from Miriel Design. A great interactive design with moveable pieces. I do love jewelry I can play with.
6. Moon Phase 4 Earring Set by Almanac For June. These tiny earrings are ever so cute and perfect for mixing up the phases.
7. Moon Headset from By Uma. A bit more of an abstract moon but it's definitely in there. Love this delicate headpiece.
8. Full Moon Collar Brooch by SMA Factory. Loving this teeny little moon. It looks great against the dark collar.