Pink is not really a color that I've ever really been drawn to. Neon pink, on the other hand, is much more me. I designed a whole collection and more based on my love of this colour, but it's lighter cousins have never been my thing. Until now, that is. After buying many black and white pieces in the sales I found myself wanting something lighter to wear with them. After a bit of a search I picked up a candy pink jumper in the Topshop sale. Now I'm finding myself hunting out more dusky and light pink wonders, like this little lot....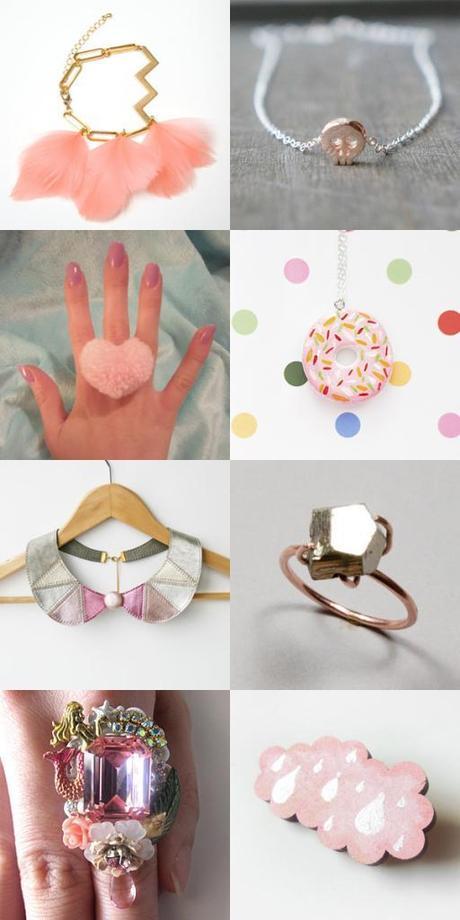 1. Zig Zag Feather Bracelet by Noemiah. I love that this color is described as shrimp. The contrast between the soft feathers and metal works beautifully and the fun zig zag shape is a nice bonus.
2. Rose Gold Skull Necklace from Lefaire. I love all things skull shaped, so it's no wonder this necklace caught my eye. The tiny size and pink color of this one gives it a really cute look without being too sickly sweet.
3. Kawaii Heart Pom Pom Ring by Jam Heart. This, on the other hand, is unadulterated cuteness. I love pom-poms and the heart shape of this one makes it extra special.
4. Donut Clay Necklace from Cardboard Cities. This necklace makes me hungry just looking at it! Loving the light pink frosting against the colourful sprinkles.
5. Metallic Pink and Silver Collar by SmArtAnna. I love the metallic sheen and the selection of collars used in this collar. It helps to give this traditional shape, a very futuristic feel.
6. Pink Gold Pyrite Chunk Ring by Jennifer Cervelli Jewellery. Again the mix of colours in this ring are what attracted me to it. That and the awesome shape.
7. Mermaid Ring by A.L.Designs. I'm really surprised how much I like this ring. It's so over the top and not something I'd usually go for, but I absolutely adore how kitsch and dramatic it is.
8. Pink Cloud Brooch by Dianthusa. It seems to have been cloudy and rainy for quite some time now. If the clouds were pink like this brooch then I wouldn't mind so much. The combination of the light pink with the silver raindrops works perfectly and looks so pretty.