After sharing my goals for 2014 I thought it might be nice to have a look at some inspirational jewels that might help me along the way. It's not really something I'd given much thought to before, but I can see how a piece of jewelry could be used as a handy reminder to stay positive and focus on being awesome in the year ahead. Plus, on top of positive powers, these pieces also look damn pretty.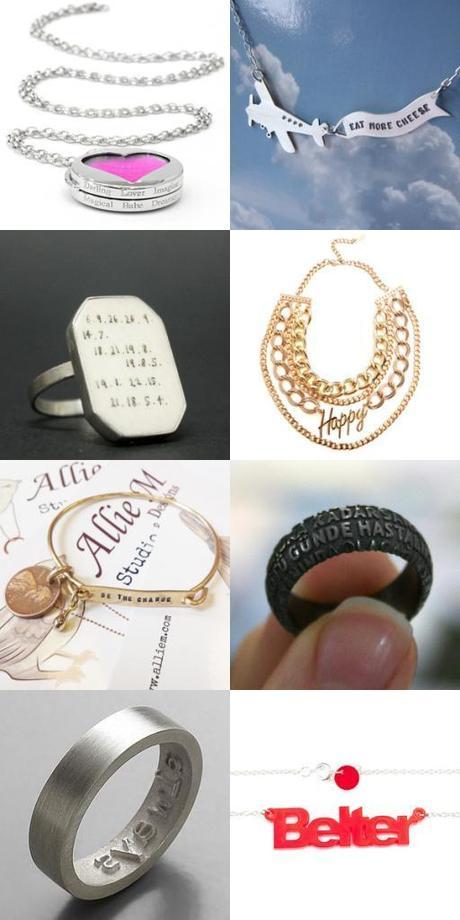 1. Heartbump Pendant from Gala Darling collection at Darling. Gala Darling has a whole collection of pretties for the very purpose of positive thinking. My favorite is this heart locket inscribed with some inspirational words.
2. Message in the Sky Necklace by Melanie Favreau. 'Eat more cheese' may be one of your new year's resolutions, if so this necklace is the perfect reminder. If not, don't worry, you can ask for your own custom message to remind you of your goal.
3. Secret Message Ring from Ivy Nixon Jewellery. Oh how I do like a wee code. This ring hides it's message with numbers and, if you don't like what you decipher, you can always ask for your own personal message.
4. Gold Message Bib Necklace by Girlorious. A small reminder to remain happy throughout 2014. And when I say small, what I really mean is big and fabulous and gold!
5. Be the Change Bangle from Allie M Jewelry. I don't normally go for bracelets but I like the message this one displays and the attached lucky penny. Which may also be the change, I do enjoy a double meaning.
6. Message Ring by Ashyl. I have no idea what this message says but I do like this dark ring and the contrast between the letters and the background. The ring also has lots of custom options so you can get a message you do understand.
7. Inner Message Ring from Jungyun Yoon. I mentioned my love for codes and secret messages above, so of course I was drawn to this ring with it's message hidden on the inside. The message may be shorter and more open than some of the others, but I enjoy that in wearing it the word could become imprinted in your finger.
8. Belter Necklace by Bonnie Bling. A very important sentiment displayed in perfect Scots slang. Above all else, make sure you have a belter of a year!