It's that time again, when I start looking forward to celebrating another year of living. On February 4th I shall move further away from my mid-twenties and on into adulthood. Which is an excellent excuse to do a Jolly Jewellery post where the theme is that I love each and every piece and want it on my person. As you can see I am not maturing much in my jewelry picks. I continue to get attracted by shiney, colourful, fun or slightly creepy pieces. Getting older does not equal boring jewellery, quite the opposite in fact.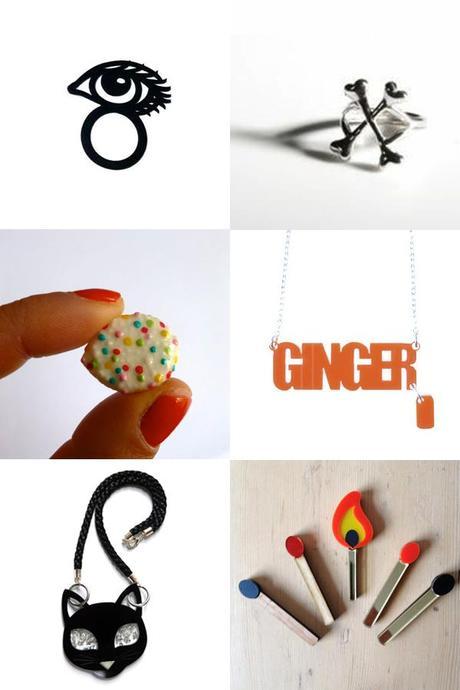 1. 3rd Eye Ring by Caipora Jewellery. I have mentioned my love of eyes plenty of times on this blog. So it's no wonder I love this awesome eye ring. One for each hand would be amazing.
2. Cross Bones Ring by Bloody Mary Metal. I have been following Bloody Mary Metal on Instagram for quite some time. Every time this ring appears it makes me want it more!
3. Mini Jazzie Brooch from Kim-Anh Chiem. Love this colourful brooch. Small and sweet, just like me :).
4. Ginger Necklace by Bonnie Bling. As a go to place when I'm doing my own gift buying, I only recently realised that I don't own any Bonnie Bling of my own! This ginger necklace is pretty much the perfect piece to sort out this problem.
5. Big Cat Face Necklace from Katze Shop. A big statement piece, that is also a cat, and has added sparkles. This necklace has my name all over it. Not literally, obviously. Also there's 25% in Rosa's shop up to 31st Jan. Perfect timing.
6. Matchstick Brooch by Lou Taylor. I love Lou Taylor's little collection of match brooches. So much so that I found it impossible to pick just one to feature, as you can see.