Hi all, hope you are having a great weekend! Ours is pretty damn busy but lovely none the less! 
Todays post is a review of Jokers Masquerade fancy dress, we were asked if we would like to review an outfit and after browsing through the adorable kiddy costumes how could I say no!? From bumble bees to pirates, their favourite cartoon characters to uniforms, you will definitely find something perfect for your little one!
"Jokers' Masquerade prides itself in offering for sale quality fancy dress costumes direct from its 40,000 square foot of office and warehouse complexes which hold 10,000's of products in stock for immediate shipping. Unlike many competitors, the Jokers' Masquerade website is configured only to allow acceptance of your order when the required product is in stock. You can be assured that you are buying with confidence and will not be let down."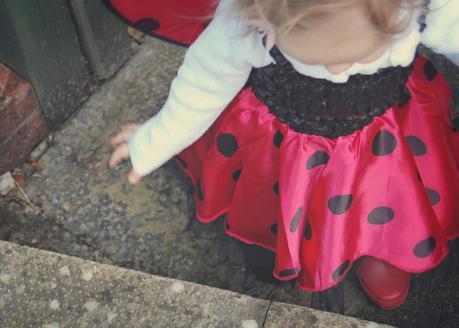 First impression
Oh my cuteness! I knew I picked the ladybird for a reason, it's the cutest outfit i've ever seen in my life! I was torn between this one and the bumble bee but I don't think she would've ever forgiven me for the bee one! I wanted a costume that she could wear to a fancy dress party but also out and about! We headed off to the shop and the amount of oohs and aahs we got was definitely affecting her ego ;).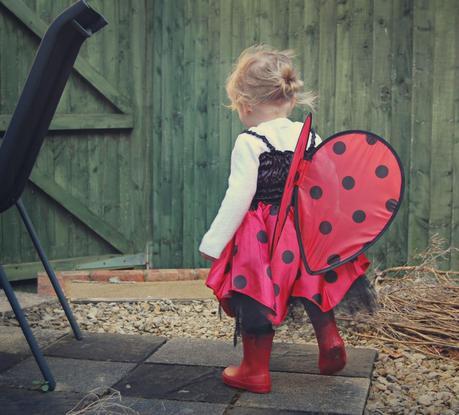 It's made with the usual materials often seen with kids fancy dress costumes, an elasticated top with little ruffled straps, attached to a poofy skirt made with 2 layers of black netting and a soft silky material over the top which was covered in black spots for the ladybird effect! The costume also came with detachable spotty wings which are super adorable again, not too great in windy weather as they slouched off to one side for us but still cute nonetheless. The size we received said it was suitable for 'up tp 2 years' and is just the teensiest bit big on Abbie so spot on with sizing!
It was pretty chilly out so I paired the dress with a little white bolero underneath, some black cotton tights and her hunter wellies! and if I must say so myself, she looks so blooming' adorable!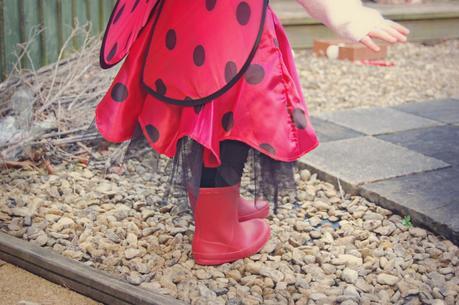 Not only do they stock a ton of children's costumes, but also a huge range of costumes for the grown ups too! So if you're off to a fancy dress party and haven't found the right outfit yet, pop over and have a browse :)

Visit the Jokers Masquerade website here
Buy this ladybird costume here
What outfit would you buy?