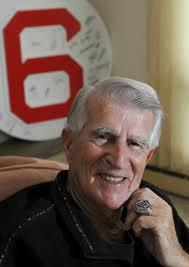 It's a sad day for Red Sox fans everywhere as the great Johnny Pesky passed away today at the age of 92.
He did everything you could possibly do for the Sox: player, manager, coach, broadcaster.
Johnny was one of "The Teammates", along with Ted Williams, Bobby Doerr and Dom DiMaggio. (Bobby is now the lone living one.) Johnny batted a career .313 with the Red Sox, and overall .307. His career spanned from 1942-1954. (He missed three years due to World War II.)
He will forever be remembered not for the Enos Slaughter "mad dash" in Game 7 of the 1946 World Series where he allegedly "held on to the ball" (film of it seems to disprove the shallacking Pesky took for it), but for the "Pesky Pole", the right field foul pole named for him for his ability to wrap home runs just inside of it.
He was the first man to greet Carlton Fisk after Pudge blasted his game-winning home run in Game 6 of the 1975 World Series, as he was the Sox' first base coach that year.
Everyone in Red Sox Nation was thrilled when Johnny was still with us to see the club win two titles. He was still active until a few years ago. The Sox retired his number six back in 2008.
God bless you, Johnny.