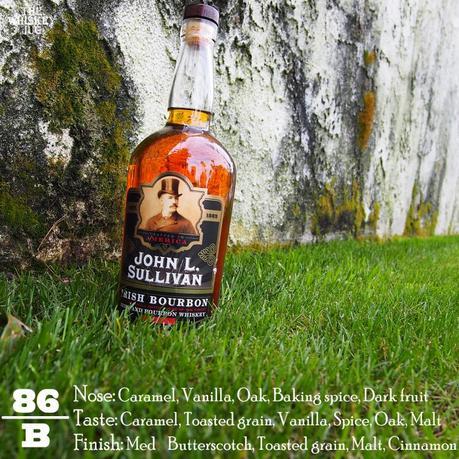 I have no idea how theJohn L. Sullivan Irish Bourbon label ever passed the TTB (ok, yes, we all do), but I find it amusing. They simultaneously got away with a technically illegal label while giving transparency into what's in the bottle: a blend of Bourbon and Irish Single Malt.
In John L. Sullivan's Words: John L. Sullivan Irish Bourbon
"The first ever blend of American Bourbon & Irish Whiskey – a fitting tribute to an Irish American icon. Aged in New Oak & Sherry Casks. 80 Proof – rich bourbon flavor, with a velvety sherry finish."
If you're wondering who the dapper looking "Irish American icon" on the label is and why he has a whiskey named after him then you're probably behind on your late 1800's Bare-Knuckle Boxing rankings. John L. Sullivan was the last bare-knuckle heavy weight champ who defended his title for the last time in 1889 in a 75 round fight. If anyone deserves a whiskey named after them it's this guy. Now on to the John L. Sullivan Irish Bourbon review!
John L. Sullivan Irish Bourbon Info
Region: Ireland
Blender & Bottler: John L. Sullivan
Blend: Bourbon & 10-year-old Irish Single Malt
Cask: New Charred Oak & ex-Sherry
Age: NAS
ABV: 40%
Price: $33
John L. Sullivan Irish Bourbon Review
EYE
Caramel
NOSE
The bourbon notes lead the way with layers of caramel, vanilla, oak and baking spice leading the charge with secondary notes of dark fruit and malty sweetness coming next. Light bits of butterscotch, citrus and anise pop in now and then.
PALATE
Caramel, toasted grain, vanilla, spice and oak once again display the bourbon notes in the forefront but the malty sweetness is noticeably higher on the palate than on the nose. Some bits of dark fruit, nuts, peppercorns, citrus and leather round it out.
FINISH
Medium fade of butterscotch, toasted grain, malty sweetness and cinnamon.
BALANCE, BODY & FEEL
Decent sense of balance, medium body and a soft velvety feel.
OVERALL
John L. Sullivan Irish Bourbon is what I'd imagine a well aged high malt bourbon would be like. It's quite nice from aroma to finish and even though the bourbon notes lead the way the sweet malt balances out the oaky bourbon and it ends up working well together.
The whiskey is dynamic and has a lot to offer, but it needs a bit more depth to really shine. It suffers from coming across too soft and velvety. I know some people want that out of their whiskey, but I want richness and oiliness. I don't need cask strength all the time, far from it, but I think nearly all whiskey benefits greatly by keeping them at a high enough proof to deliver it NCF. It gives the whiskey an oily richness that enhances its depth. If the John L. Sullivan Irish Bourbon had that depth and richness it would likely be incredible.
SCORE: 86/100 (B)