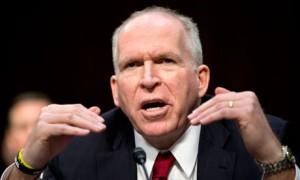 The US Senate on Thursday confirmed John Brennan, a counterterrorism expert, as President Barack Obama administration's next director of Central Intelligence Agency director (CIA).
The Senate voted 63-34 in favor of John Brennan, conquering Kentucky Senator Rand Paul's attempt to halt his way from becoming the next CIA head.
Paul, who spent more than 12 hours speaking on the floor Senate yesterday, was enraged about disinclination of Obama's administration to declare that the "targeted killings" of American citizens on US soil were unconstitutional.
Paul demanded White House to clarify that whether allowance to kill the "non-combatant American citizen on US soil" by a drone strike is a US policy.
US Attorney General Eric Holder delivered a written reply to Paul on Thursday that this was not the policy, wiping out the only hurdle from Brennan's way to become CIA head.
John Brennan, who has 25 years of prior experience at the CIA, is the oscillator of a controversial "targeted killing" policy that has seen al-Qaeda operatives killed in Pakistan and Yemen.
Obama welcomed Brennan's confirmation as CIA head, and hailed his "determination to keep America safe, his commitment to working with Congress, his ability to build relationships with foreign partners and his fidelity to the values that define us as a nation".