A Guide to Die Meistersinger von Nürnberg.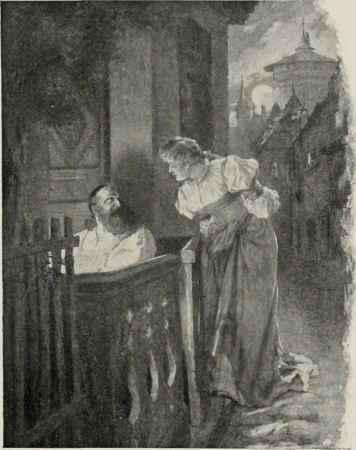 Sachs and Eva, in a scene from Act II of Die Meistersinger.
Today is the solstice. In Germany, that's the signal to celebrate St. John's Day.
Johnannistag.
So it's time to write about...
Meistersinger!
This is Wagner's lone comic effort, and his longest opera. The music, played without intermissions lasts about four and a half hours. With the necessary breaks for singers and orchestra, the piece usually lasts about six hours. The music is mostly diatonic, projecting major-key
freude
with only occasional forays into chromatic
angst
.
The story is Wagner's own. The central character is the cobbler/poet Hans Sachs, but the plot revolves around Walther von Stolzing, a German nobleman (
junker
) and his efforts to win the hand of Eva Pogner, daughter of the town goldsmith of Nuremberg. The right to marry her is the prize in a song-contest being held on St. John's Day. The catch--that contestants must be an accepted, accredited member of the town guild of Mastersingers.
After a crash course from David, (Sachs' apprentice) Walther ultimately receives help from the cobbler himself. Sachs is a widower, and a contender to marry the beautiful Eva, but he ultimately decides to let young love win the day. This famous character is based on a famous poet, who really was a shoemaker, part of the country's up-and-coming burgher class who did much to preserve the tradition of German music in the late medieval period.
Sachs shows Walther how to temper his artistic gifts into a musical form tha his listeners can digest and appreciate, creating a "Prize-Song" that is guaranteed to win at the contest. Along the way, both songwriters must contend with Beckmesser, the town tax collector who is also out to marry Eva. Beckmesser actually steals the prize-song in the third act, but mangles it in public performance. This gives Walther the opportunity to prove himself as a composer, and win Eva's hand in front of the whole town.
At the heart of
Meistersinger
is Wagner's music, which combines the composer's own melodic skill with a newfound interest in counterpoint, church modes, and comic scenes that verge on the burlesque. True, the opera has a heavy-handed sense of humor (Beckmesser's midnight serenade provokes an onstage beat-down and a town riot) but the libretto is also filled with brilliant moments that provide philosophic insight on the meaning of life.
Recording Recommendations:
There are at least a dozen
Meistersingers
in the catalogue. Though a number of them have all-star casts and famous conductors, many fall short of capturing the brilliance and effervescence of Wagner's version of Nuremberg. Here's three good ones:
Vienna Philharmonic cond. Hans Knappertsbusch
(Decca, 1950/'51)
Sachs:
Paul Schöffler
Walther:
Gunther Treptow
Eva:
Hilde Gueden
This is a mono recording made in a Vienna recording studio. It captures the unique quality that "Kna" brought to Wagner. the organ-like tone of the horns and the near-faultless sense of rhythm and when to let the music stretch and luxuriate in the lushest passages. Good cast, slightly past their prime, esp. Treptow. Out of print for many years, but now available from Naxos.
Bavarian Radio Symphony Orchestra cond. Rafael Kubelik
(Arts Archives, 1967)
Sachs:
Thomas Stewart
Walther:
Sandor Konya
Eva:
Gundula Janowitz
Made by the DG team (and then shelved for 25 years in favor of the flashy Eugen Jochum recording with Dietrich Fischer-Dieskau as Sachs) this is the best studio
Meistersinger
ever recorded. Stewart, Konya and Janowitz are caught in ideal form. It has been issued three times and is currently in print on the small Arts Archives label. Go buy it.
Bavarian State Opera cond. Wolfgang Sawallisch
(EMI, 1993)
Sachs:
Bernd Weikl
Walther:
Ben Heppner
Eva:
Cheryl Studer
This was the recording that got me "into" this opera. Superbly conducted and paced with a fine North American pair of lovers in Studer and Heppner. He is caught in his early prime--she was starting her decline but is a potent, fresh Eva. Bernd Weikl is a good actor though his voice was starting to fade. Kurt Moll rocks the house as Veit Pogner. Now a mid-priced box from EMI.