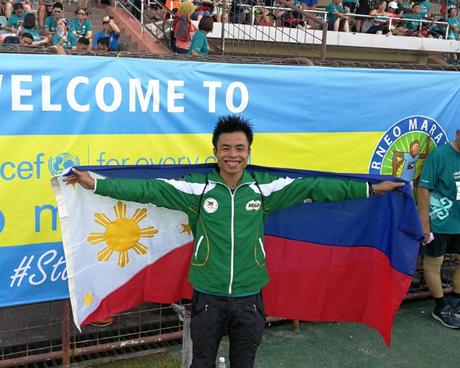 MILO Marathon King Joerge Andrade once again proved his athletic mettle as he emerged victorious in his first international 42K race at the Borneo International Marathon (BIM) in Sabah.
Andrade is the second Filipino to win Borneo's flagship marathon following Noel Tillor, a MILO Marathon regular from Cebu, who won the 42K race open division in 2016. The BIM stint is Andrade's grand prize for winning the 41st National MILO Marathon National Finals in 2017 as part of MILO's commitment in nourishing athletes' ambitions to compete in the world stage.
Andrade clocked in with a time of 2:54:14, leading against other local and international marathoners in the men's open division from Kenya, Taiwan, Brunei, and Malaysia.
Andrade was in a 2km lead against his opponents throughout the stretch of the race. But in the last 2km to the finish line, it was a close call for Andrade as he was only 400 meters shy from being outpaced by his fiercest competitor in the race, Noah Kutung Chepsergon of Kenya, who finished second with the time of 02:55:26.
The uphill route in the 28th and 38th km marks also proved to be challenging, but Andrade did not frail and was determined to finish the race strong. "I had a hard time when I reached the uphill slopes, add to that are my coughs and colds which made it extra difficult for me to focus," he recalled. "But I just pushed myself and did not mind all the pains so that I can move further."
The 25-year-old was overwhelmed with joy at his achievement when he finally reached the finish line. "I never thought that I would win, especially against a Kenyan runner because all I think of was to do my best in this race. I am so happy that I succeeded this," he said.
The Unassuming Underdog
The young Digos native, an unknown in the elite running scene, took everyone by surprise – including himself – after claiming the MILO Marathon King crown from its defender, Jeson Agravante. The victory meant a great deal for Andrade, as the National Finals for him, was the ultimate running stage where all the country's bests compete, "I believe that the National MILO Marathon is a prestigious event that is why I joined, and I was thrilled to be in the competition and be among my idols, the veteran elite runners," Andrade said in a separate interview.
In the 42K category, Andrade is admittedly new in the game, but he has been running for 7 years in fun runs as his way to provide for his family, "Whenever I join fun runs, I always aim for the cash prize so I can support my family's daily needs," said the persevering Andrade, who is determined to take his family out from poverty through running.
On his National Finals win, it was perhaps Andrade's grit and passion that led him to his success. Andrade had only brought 50 pesos tied onto his shoelaces for his transportation fare, but with his driving force to help his family, his hard work yielded tenfold. The National Finals was Andrade's second 42K race and yet he managed to take the top prize.
From being the underdog, Andrade is soaring to become one of the most promising running greats. As he savors his new-found success, Andrade shared the invaluable lesson he learned in this journey. "I learned to work harder to improve my performance in every race that I join. One of these days, I will beat my personal record of 2:39:34 I got from the National Finals," he said.
What's Next for Joerge
As early as today, Joerge has his sights set on defending his MILO Marathon King crown in the next National Finals in Laoag. "I'll start my training in July, and I'll work harder this time," he said.
As the winner of the Borneo International Marathon, Andrade receives a cash prize of MYR 1,200.00 (approx. PHP 15,700.00), a medal, and a Suunto GPS smart watch. "I am very thankful to everyone and to MILO who have supported me in this journey. This feat is something that I will treasure for a long time," he said.
MILO and PATAFA held a send-off for Andrade last Thursday before the race. Andrade will return to Manila on Monday, this time with a new feather on his cap.
"MILO is proud to be an instrument for athletes to achieve success as we are dedicated to nourish ambitions of every Filipino who is capable to compete the world stage," said Lester P. Castillo, MILO Sports Executive. "Joerge's triumph today in the Borneo International Marathon only testifies that commitment. We look forward to see Joerge run farther and be among the country's running greats in the future."
The National MILO Marathon, the country's most prestigious footrace, has been an avenue for runners to compete internationally and display their distinct Filipino athleticism. For over 40 years, the National MILO Marathon has produced inimitable talents who've built themselves to be one of the country's best runners such as Mary Joy Tabal, Christabel Martes, Eric Panique, and Vertek Buenavista.
With the theme "Magsama-sama, Tumakbo, Matuto", the National MILO Marathon is driven by values such as discipline, resilience, and determination that runners can take with them in their journey in life.