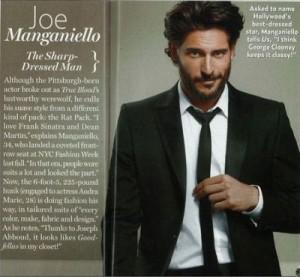 Last Tuesday in Hollywood, Joe Manganiello (who plays Alcide on HBO's True Blood), was seen strutting his stuff down the red carpet. The event was the release of US Weekly's Hot Hollywood Style edition.
Our favorite werewolf won himself the title of most Sharp-Dressed Man. Which is a little ironic when you consider how little he actually wears on True Blood. A thought also echoed by Joe:
"On True Blood, they put the pressure on me to not be dressed — so either way I go…"
Either way, we here at True Blood Net think Joe looks great!
Source: MTV – Joe Jonas, Jessica Simpson Awarded for 'Hot Hollywood Style'
(Photo Credit: US Weekly)