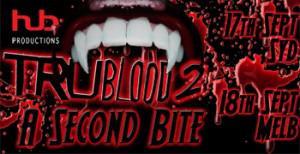 There is a coup for Australian fans of HBO's True Blood this September! Not only will this year's Hub Productions True Blood convention, Tru Blood 2: A Second Bite, have Nelsan Ellis (who plays LaFayette), but Sam Tramell will be returning for a second year. To add to the list of True Blood stars, Joe Manganiello, who plays hunky werewolf, Alcide, has just been announced as a part of the line up!
Aussie fans can order tickets online here. There are two events, one in Sydney and the other in Melbourne. Ticket prices start from $100 for a day pass, right up to $950 for a platinum pass (which includes an evening function with the stars of True Blood, as well as front row seating.)
I will be attending the Melbourne event, so if you want me to ask your fave star a question, make sure you comment below.
Source: Hub Productions – Tru Blood 2: A Second Bite
(Photo Credit: Hub Productions)