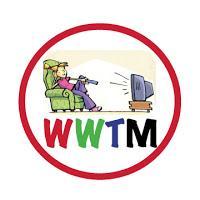 The answer to Thursday's Trivia Question: Barenaked Ladies sing the Chinese Chicken song
FIRST FIVES:  Dan Realson, Bobby Aguilera, Tara Dowling, Jim Carter & Monica Caraffa
Honorable Mention:

Wednesday's Broadcast Top 5

American Idol-FOX 5.4/16.0 (a drop but not as big as I thought it would be)




Modern Family-ABC 4.1/10.8




Criminal Minds-CBS 3.0/11.7




CSI-CBS 2.7/11.4




The Middle-ABC 2.5/8.5




Wednesday's Broadcast Trendrr Top 5

American Idol-FOX 361,710 (DOWN 59% vs. last week!)

Supernatural-CW 69,891

Nashville-ABC 49,143 Criminal Minds-CBS 46,688 Modern Family-ABC 46,637



Wednesday's Cable Top 5

Moonshiners-Discovery 1.5/3.1




The Big Bang Theory-TBS 1.4/3.2




American Horror Story-FX 1.3/2.2




American Dad-Adult Swim .9/2.1




Daily Show-Comedy Central .8/1.8

Wednesday's Cable Trendrr Top 5

NHL Hockey-NBC Sports 308,776




NBA Basketball-NBA TV 142,574




Workaholics-Comedy Central 141,950




American Horror Story-FX 115,564




NBA Basketball-NBA 66,528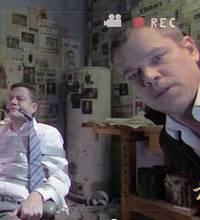 Not sure if any of you stayed up for Jimmy Kimmel last night, but it was one of the best shows ever! Jimmy is definitely in this war to win and win big.  (I know, I do feel sort of dirty talking about the other Jimmy this way.)  For those of you that don't know, Jimmy "bumps" Matt Damon every night from his show. It's been a running joke for 10 years, but last night it was Matt Damon who had the last laugh as he tied Jimmy up and took over the show. HILARIOUS from the first second.  Matt pulled every star out of his Iphone for this one. Andy Garcia replaced Jimmy's sidekick Guillermo, Sheryl Crow replaced the band leader and Ben Affleck did the cue cards.  Then on the couch, Nicole Kidman, Gary Oldman, Amy Adams, Reese Witherspoon and even a very botoxed Demi Moore who hasn't been on the talk show circuit in a while stopped by, but the best guest...Jimmy's Ex (and Matt Damon lover) Sarah Silverman.  It was an awesome show, if you haven't seen it, you should check it out tonight.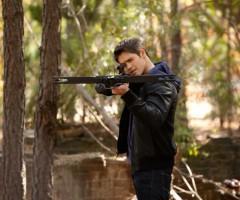 Did anyone notice how dark Vampire Diaries was last night?  Not just in mood, but truly lacking light. First I thought it was my TV, but I'm sure you can imagine...I have good equipment, and all of the other channels were fine so it was them not me.  In addition to my confusion on the lack of light, I was confused about the rules of compulsion, but I think I got it. Cole compelled Damon to kill Jeremy, and he can do that because he's an original. Elena figured out that if Jeremy just kills Cole, his hunter's mark would be complete because when you kill an original you kill all their peeps.  Why didn't Elena think of that 3 episodes ago?  My assumptions were correct, that dude Shane is crazy and now he has this weird power over Bonnie.  She's now superpowerful and always looks like she's going to get a nosebleed or bunch someone in the face. Apparently back in the day, Stefan and Rebecca had crazy sex because well...Rebecca's crazy.  Now, they're doing it again...a crazy friends with benefits type deal. Gotta say...I'm good with it.  Oh wait, just realized...what was the deal with the mystery guy looking for the headstone who bit off his own tongue and then killed himself? That was odd and no real payoff before the credits rolled.  There was no shirtlessness at all this episode which pissed me off AND I was sort of noticing that Cole, Rebecca and Klaus all have totally different accents and if memory serves Elijah too...which is sort of a problem since they are all brothers and sisters.  Of course at the end of the episode after Stefan had saved Damon he had to lock him up for safe keeping.  He had the best line to Elena last night..."You don't know what I look like when I'm not in love with you".  We do now...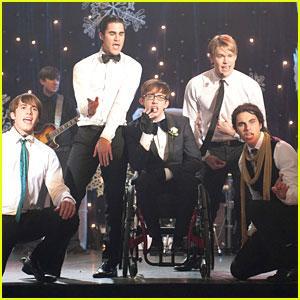 I tune in to Glee these days with little expectation.  I assume there's going to be a lesson and that I'm going to be preached to about something, which of course I was this week too.  This time empowering women was the theme. Oyyyy does every episode have to have a lesson? Ryan Murphy must have really been wronged over the years.  I would think we've covered it all by now, but he still pops up with more lessons for us all to learn.  That being said I thought Kurt's new crush was really cute, Blaine's crush on Sam, stupid, and the Kitty/Puck/Jake thing annoying, but Finn in the teachers lounge wearing a tie is just wrong...he graduated LAST year.  Please.  Loved the "No Scrubs" performance and the "Locked out of Heaven" performance.  We knew there would have to be a way to get the New Directions back into Glee competitions so a crazy cheating scandal is the answer.  I mean come on, why on earth would the Warblers need to cheat? Ridiculous...but okay, it's Glee
30 Rock's second to last episode was brilliant.  I don't know what was better, Kenneth getting his page job back and taking the NBC President candidates on a Willie Wonka type tour where he ended up winning the job himself OR the fact that the twins that Liz adopted are a mini Jenna and a mini Tracy.  I can't believe next week is the last episode.  I'm so going to miss 30 Rock's brilliance.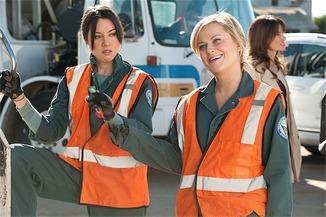 On Parks & Rec, don't you think that Chris Trager's "special friend" Shawna looks exactly like Susan "Erica Kane" Lucci? I mean they could be twins no? I know I've said this before, but man Rob Lowe can fill out his button downs nicely.  Ron Swanson's in love with Xena the Warrior Princess, and Tom tried to learn to play basketball, but the best part of the show this week was Leslie and April doing garbage duty.  I'm thinking Amy Poehler didn't just want to talk about gender equality in government jobs, but really just wanted what we all want...to ride on the back of the truck!  Good show as always guys!
NEWS & INFORMATION:
-Mixed emotions about Girls being renewed for a 3rd season on HBO.  So many of you say I need to give it another shot, but at the same time,
-Brooke Shields is joining the cast of Army Wives 3/10.  Whatever happen to Christopher Atkins?
-In case anyone was worried about Dr. Phil, don't be, his show just got renewed through 2017.  Still time for tons of self correction and improvement if you need him. 
Friday's Trivia Question: Carrie Bradshaw, Charlotte York, Miranda Hobbs and Samantha ????  What was Samantha's last name on Sex and the City?
Have a great weekend! WWTM-Kristy
http://watchingwaytoomuch.com
[email protected]
[email protected]