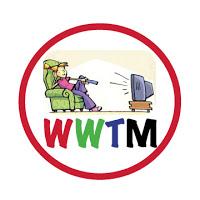 THE ANSWER TO MONDAY'S TRIVIA QUESTION: Meredith, Addison and Derek were the Grey's Anatomy love triangle.
FIRST FIVE: Elke Raskob, Mike O'Dea, Crystal Kyler, Larry Price & Alex Nagler
HONORABLE MENTION: Christine Clarke

THE NUMBERS 
Friday's Cable Top 5
WWE Friday Night Smackdown-Syfy .8/2.8
American Dad-Adult Swim .7/1.7
Family Guy-TBS .6/1.1
Cleveland Show-Adult Swim .5/1.3
Z Nation-Syfy .5/1.5
Sunday's Broadcast Top 5
Sunday Night Football-NBC 7.6/19.4
Football Night in America-6.3/NBC 16.9
60 Minutes-CBS 2.8/10.8
Big Brother-CBS 2.2/7.3
Miss America-NBC 1.5/6.7
Sunday's Cable Top 5 NA
Sunday's Top 5 Nielsen Twitter Ratings
Miss America-ABC 304, 000 Tweets
Big Brother-CBS 113,000 Tweets
The Roosevelts-PBS 12,000 Tweets
Witches of East End-11,000 Tweets (Channing Tatum's wife is in that one)
Boardwalk Empire-HBO 6,000 Tweets
-9 MILLION people watched The Roosevelts Premiere on PBS! 9 MILLION!!! They also Tweeted about it! 3rd for the night behind Miss America and Big Bro. I guess I need to check it out. Did anyone watch it? 
-The Season premiere of Sons of Anarchy was the most watched program in FX's history. 9.2 million people viewed the show last week. Including the encore 10.6 million people tuned in. In 2014, Sons was the 2nd highest ranking for a scripted show with only The Walking Dead beating it. Game of Thrones was 3rd. 
THE SHOWS
Masters of Sex 
Money's tight, Bill's impotent and Virginia's trying to figure out why. She tried some 50 Shades stuff, but that didn't work, then Bill beat the crap out of his brother and shmeared his blood on her and that seemed to do the trick. Virginia came clean with the shrink, but of course the shrink knew that she was pretending to be someone else all along. Shrink's are good like that. Austin's Calometrix boss sexually harassed him but I think he liked it. Pretty sure Lester and Barbara are going to get together and not have sex. Bill's Mom got into a little drunk driving accident, but don't worry, she's okay.  Bill is so incredibly damaged, isn't he? I go from hating him to pitying him to liking him. Michael Sheen should have won an Emmy. He's SO good in this show. 
THE OTHER STUFF We love the ESPN 30 for 30 films in our house. They just released the premiere dates for all of the Fall titles. I'm pretty interested in Playing for the Mob and When the Garden was Eden, but I'll probably watch um all at some point. Here's the list for your convenience: October 7th-Playing for the Mob which is about when Henry Hill, the mobster (Howard Stern fans will know who he is) helped to fix Boston College basketball games.  October 14th-The Day the Series Stopped which tells the story about the 1989 San Francisco earthquake that hit right before Game 3 of the World Series. October 21st-When the Garden was Eden which about the Championship NY Knicks team October 28th-Brian and the Boz which is about Brian Bosworth November 4th-Brothers in Exhile about El Duque and his brother November 11th-Rand University featuring Randy Moss December 13th-The U Part 2 about University of Miami Football
-Last night, was the night, Jimmy Fallon had on Barbra Streisand. He sang with her, he let her sit at his desk, and I don't know if I thought the whole thing was fun or a bit dooshy. What do you think? http://www.nbc.com/the-tonight-show/segments/11746.  There's no fun viral clip, but Jimmy Kimmel had on another icon...Jane Fonda. She looks great (Barbra does too though) and she was a good sport I guess. I don't know. both shows sort of made me cringe a bit. Not sure what my problem is. 
Tuesday's Trivia Question: Love Triangles continues: Clark, Lex and ??? Name the girl and the show! 
WWTM-Kristy Like me on Facebook at Watching Way Too Much
Follow me on Twitter at [email protected]
http://watchingwaytoomuch.com
[email protected]