Let's head out with Deano to pay our respects to one of rocks greats, Jimi Hendrix…
Born James Marshall Hendrix in Seattle on November 27th, 1942, he went on to play guitar down south, onto New York, then London and Europe with The Jimi Hendrix Experience. He started to find fame over there and hit the big time in the US in the late 1960′s headlining Woodstock in 1969 and the Isle Of Wight Festival (England) in 1970.
Sadly at the peak of his fame, Jimi died too young (like so many of his contemporaries) in London on September 18th, 1970. He was only 28, but he left a legacy of brilliant songs and classic guitar riffs including Purple Haze,  Hey Joe, All Along The Watchtower, Foxy Lady (always makes me think of Waynes World…party on Garth!),Voodoo Child, Stone Free and his famed version of the  The Star Spangled Banner (like it had never been played before)!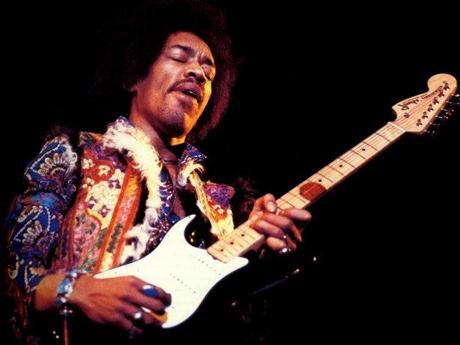 I had planned to visit his gravesite on the anniversary of his death, but due to an upcoming trip to Wyoming and Yellowstone National Park overlapping that date, I decided to head out there a bit earlier. This was probably a better call, as I literally had the place to myself. I couldn't help but have those classic songs playing in my mind as I paid my respects. I have always been a big fan of his music, so it was great to visit this memorial site.
September 8th, 2011
The Jimi Hendrix Memorial is located in Greenwood Cemetery, Renton a suburb of Seattle where Jimi grew up. A respectful tribute to the man, made of granite it has a domed roof supported by three columns which have images of Jimi and hand written quotes and song lyrics etched onto them. On the outside is a sundial, a further image of Jimi and his signature are also etched into the granite base of the memorial.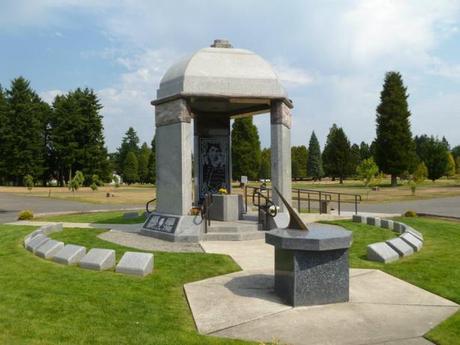 Jimi Hendrix Memorial
Originally the memorial site was just a grave with a basic headstone (which is now in the center of the structure, Jimi is buried beneath it). He apparently wanted to be buried in London, but his father Al decided to bury him here in Seattle. The new memorial was announced in 1999, but was not dedicated until 2002 (his father passed away a few months before this occurred).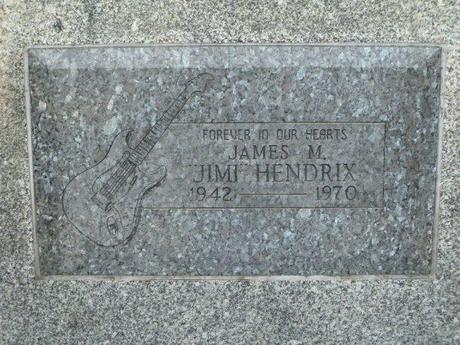 Original grave headstone
The memorial was funded by his family and is actually a burial plot for his entire extended family with 54 headstones (not all used yet) surrounding the circular memorial (his father, step mother and grand mother are buried there, but strangely his mother is not, she died in 1958 and is apparently in an unmarked paupers grave nearby?!). There were many financial disputes over the rights to Jimi's music and money which were ultimately won back by the family but must have caused financial issues in getting the memorial completed sooner (hence the original basic headstone). It also took a few years longer to have the pictures and words etched into the granite.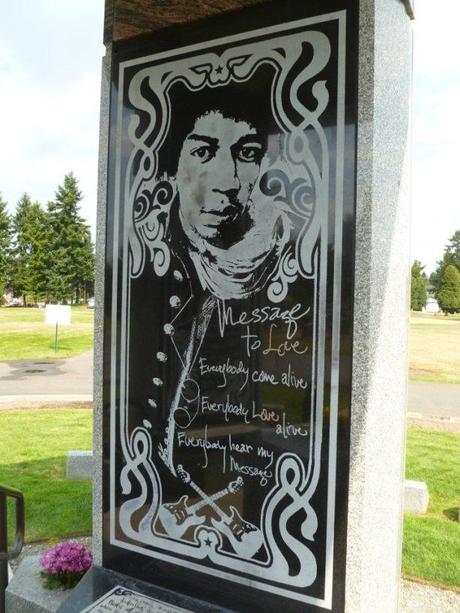 Jimi Hendrix memorial
Upon reading the memorial's website (not updated for a number of years) it stated a bronze statue of Jimi is meant to be in the middle of the pagoda, this was being built in 2004 but for some reason was not added to the memorial. Perhaps the funds ran out (but in a way this would have distracted from the panels with his images and words)? For now, on the plinth where the statue is meant to stand, visitors place flowers and guitar picks in tribute to the man.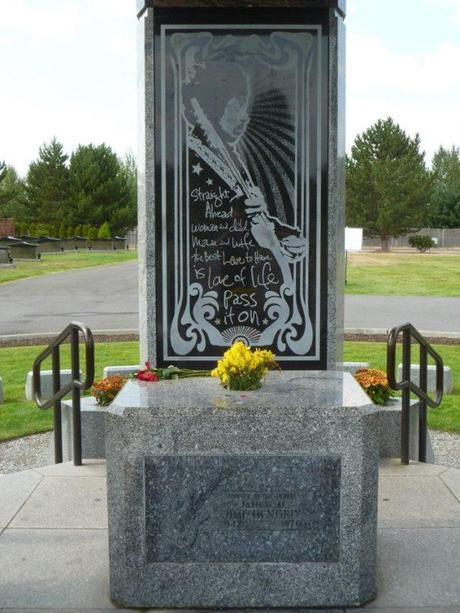 Jimi Hendrix memorial
There is a great statue of Jimi in Capitol Hill though with him in a classic pose rocking out on the guitar (see photo, on the corner of Broadway & Pine). I do not believe this is the same statue though as I am pretty sure it was created by a Seattle sculptor.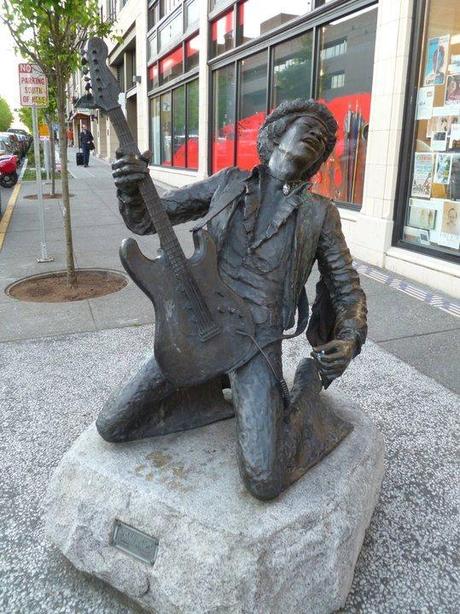 Capitol Hill
There are other Jimi sights in Seattle too, including the Experimental Music Project (EMP) museum which has the excellent Jimi Hendrix: An Evolution of Sound  exhibition which displays his guitars, photos, unique costumes and music. There is also the Jimi Hendrix Park in Seattle's central district. I have not been there as of yet, it is apparently nothing much right now, other than a soccer field and an open grassed area, but the Jimi Hendrix Park Foundation have some grand plans to turn it into a fitting tribute to the parks namesake. Redevelopment of the park will start at the end of this year and they hope to have it finished by what would have been Jimi's 70th birthday next year.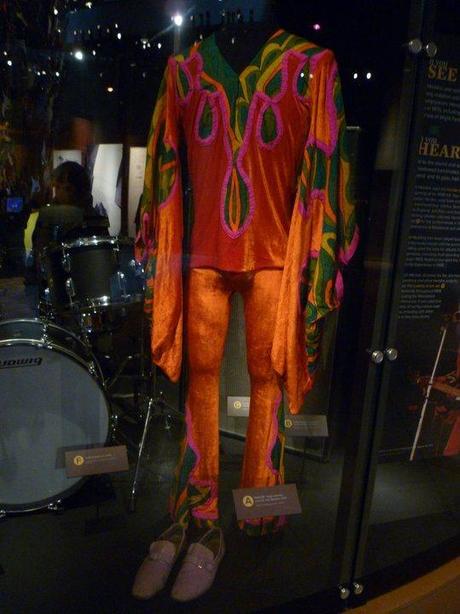 Location 350 Monroe Ave NE  Renton, WA 98056
Entry Fee: Free