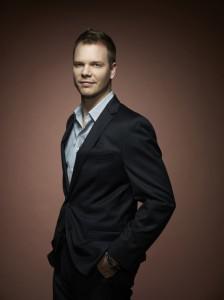 Jim Parrack plays nice guy Hoyt Fortenberry on HBO's True Blood. While Jason Stackhouse has always been his faithful sidekick, we have seen tension between not only the pair of them, but between his vampire girlfriend, Jessica, also. Season 4 has not been so kind to this little trio.
New York Magazine recently asked the actor about what is in store for Hoyt in the upcoming episodes of True Blood. While Parrack didn't give a lot away, he did hint at Hoyt unleashing his darker side:
"Well, Hoyt's father is dead and gone. His mother is dead to him. So he only has two people left: the love of his life and his best friend. And if they're gone, what is there? That's the kind of thing people kill people over, or destroy their own lives over. And Hoyt is somewhere between those two poles. He has nothing now. People took him for granted and misused his love. So I think we're just barely scratching the surface of how dark he can go."
While Jessica Hamby (Deborah Ann Woll) is breaking up with Hoyt for all the right reasons, Jason seems to be stuck trying to work out where he stands morally after having a dream which involved not only Jessica, but Hoyt too! Parrack had this to say about that scene:
"I still haven't seen that, but to play the cowgirl straddling my buddy? [Laughs.] That was a very interesting scene to shoot, to say the least."
Besides playing lovable Hoyt, he is also getting ready for the premiere of his latest movie, Sal. It will debut at the Venice Film Festival this month and is about the actor Sal Mineo. Parrack will play the role of Keir Dullea, who was rehearsing alongside Sal for the play P.S. Your Cat is Dead, when Sal passed away. The movie is directed by James Franco and stars Val Lauren as Sal Mineo.
You can check out the full article here.
Make sure you keep an eye out for Sal. Meanwhile, what do you think is in store for Hoyt, Jessica and Jason?
Source: New York Magazine – True Blood's Jim Parrack on His Character's Dark Side, Working With James Franco, and Riding Jason Stackhouse
(Photo Credit: HBO, Inc.)