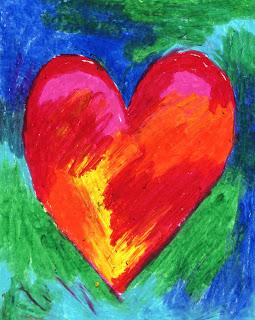 This project is actually doing triple duty this week: continuing the student's study of warm and cool colors, teaching them about a Pop artist named Jim Dine, and providing a colorful picture that I think will work for our annual fundraiser with Original Works.
1. After viewing some of Jim Dine's painting to see his style, students used a pencil to draw one large heart.
2. They filled in the heart with either only warm or cool colors. Whatever group they chose for the inside, the background had to be the opposite. We used my favorite pastels, the Prismacolor® brand you can find at Staples. They are messy because they are so soft, but that is also why they leave such great color. The goal was to follow Dine's blotchy style, which I think freed the students up to just color in free form fashion.