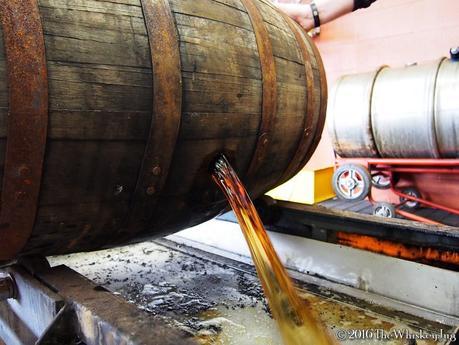 Yesterday our Jim Beam Distillery tour was about to head over to the Knob Creek bottling house and that's exactly where we're picking up the trail today. After seeing how the whiskey is made and how it gets into the barrels it was time to see how it gets into the bottle. We started by dumping a barrel of Knob Creek, this particular barrel had been in the warehouse since 2004, making it about 12 years old – that's a pretty old Knob Creek.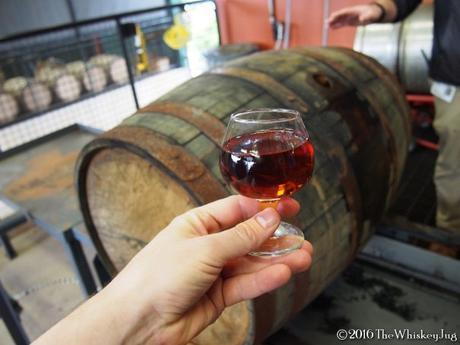 Knob Creek Small Batch, and most of the single barrels, are a 9 year old product. For the small batch the folks at Jim Beam will pick between 100 – 150 casks that range from 9-12 years in age and blend them together to achieve the signature Knob Creek flavor.
Once the flow of draining bourbon slowed we slipped a glass in to give it a taste and having now done this a couple of times I've gotta say, there is nothing in this world quite like bourbon fresh out of the cask. Out here on the dumping porch we also learned that Jim Beam has no exclusive contracts for their used casks but that they often end up being used at Ardmore.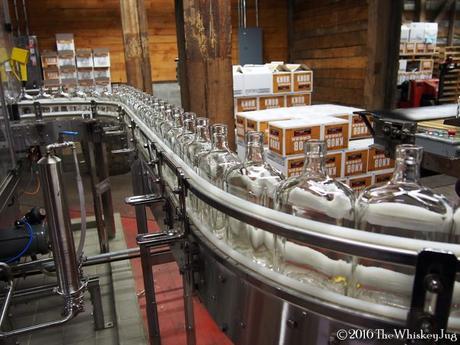 From there we entered the Knob Creek bottling hall to take a look at what they call T-Line. This is a specialty line that only deals with bottling single barrels, which is what the cask we just dumped is going to be leaving the distillery as. This single barrel line can fill bottles at a rate of 15 per minute which might sound fast, but when you see the operation for bottling the workhorse products like Jim Beam White this is almost like filling them by hand.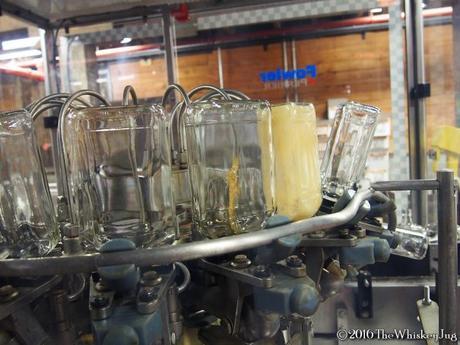 After learning how quickly these bottles were filled Hunter walked us through that process. The most interesting aspect of which was learning that Jim Beam uses uncut bourbon to wash the inside of the bottles before filling them. After all, alcohol is a great antiseptic and it's something they definitely have plenty of. It's also the only way to ensure no soap or cleaner gets into the whiskey.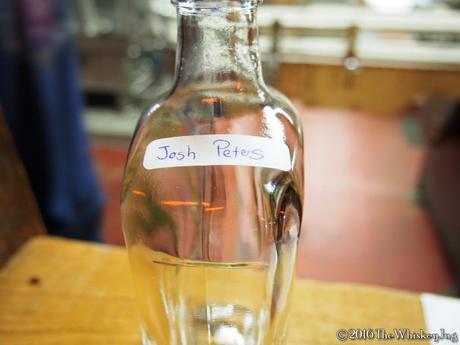 At this point our guide gave us the opportunity to put our own bottles on the bottling line that we could pick up later in the gift shop (for $49.99 of course). I already knew I was going to pick up a bottle of the Stillhouse and Old Tub releases once we got back there so I figured why the heck not. It would be fun to try and photograph my bottle going through the process and be another neat souvenir.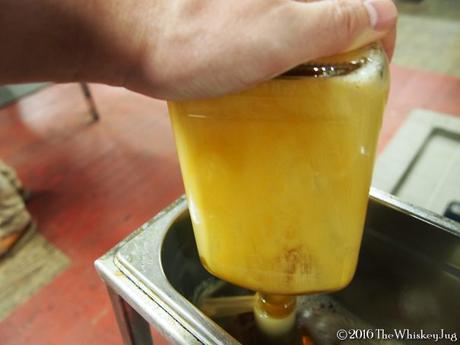 Before putting our bottles on the line we used a tiny sink next to the mechanized bottle rinser to sterilize our bottles and prep them for filling, again employing bourbon to do the cleaning. After letting them drain into the sink, a point Hunter made sure to repeat several times, we inserted our bottles in to a break in the line and the operator switched the whole operation back on.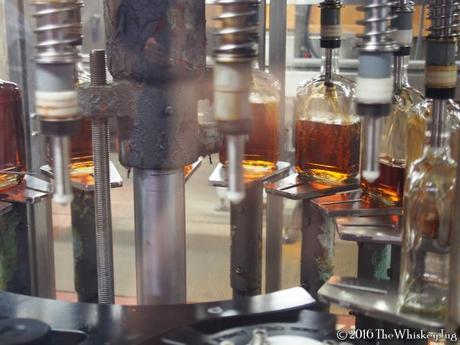 We watched our bottles move down a conveyor and then get pushed up on pedestals where they made contact with a triggered nozzle that filled the bottles with bourbon from a single barrel. After being filled the bottles moved down the line where their pull tabs were added followed by their cork and label. The whole process was quickly completed and then it was on to the wax dipping.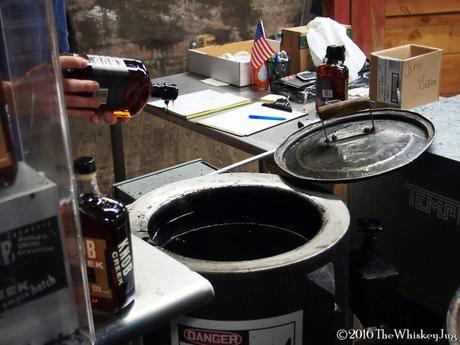 At the end of the line, one of the operators was taking our bottles and waxing the tops to give them their final seal, but if you're familiar with the Knob Creek Single Barrel then you know that this is no ordinary wax top. After dipping the bottles their waxed necks were placed in press that imprinted the Knob Creek logo to complete the signature look.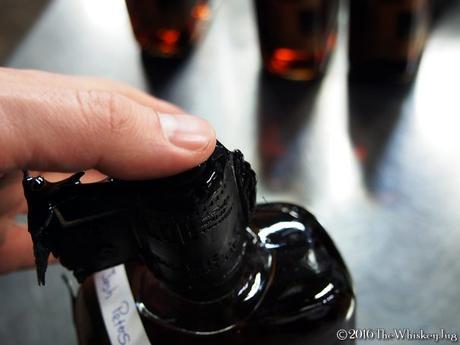 Once out of the clamp the top of the bottle was re-dipped and we got to add a personal touch to the top of our bottles… literally. We stuck our thumbs in the warm wax on top, making the bottles as unique as they possibly could be, unless someone else has your thumbprint that is.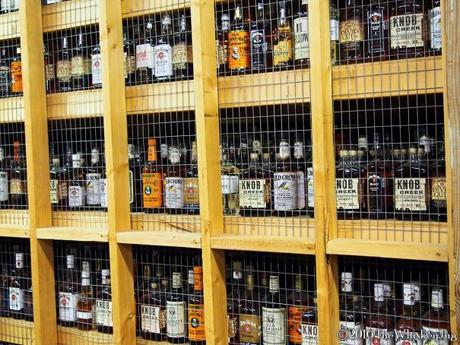 From there it was on to the massive quality control room where they store 2 bottles from every run of whiskey Jim Beam does so that if there's ever a problem they can go back and reference any particular batche. Every bottling run gets a unique number and if someone sends them back a bad bottle of whiskey their team will use that number to pull a reference from the archives.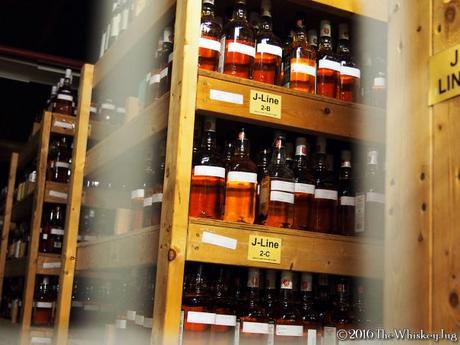 We spent a few minutes peering through the wire, spotting some dusty goodies and export only bottles, and Hunter told us some interesting QC stories. Like how someone tried to pass off a bottle that was filled with Pepsi and lemonade as a tainted bottle of bourbon or people sending back bottles so full of water they froze. It's always interesting what some people will try to pull over.
We left this room and headed towards the decanter room with a quote from the Big Man, Booker, himself "If you ever have a bottle of our bourbon you don't like, send it back and we'll drink it for you."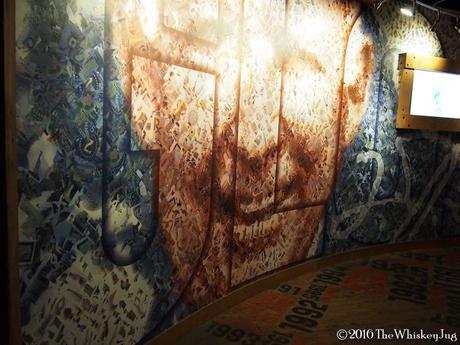 Around the corner from the QC room is the T. Jeremiah Beam decanter room which had a couple hundred Beam decanters in it, but was far from a complete collection, and a mosaic mural of Jeremiah Beam using photos of different decanters. From the 50s – 90s Jim Beam put out hundreds of decanters with their most famous one being a silent star on I Dream of Jeannie. That's right, Jeannie's bottle was originally a Jim Beam decanter.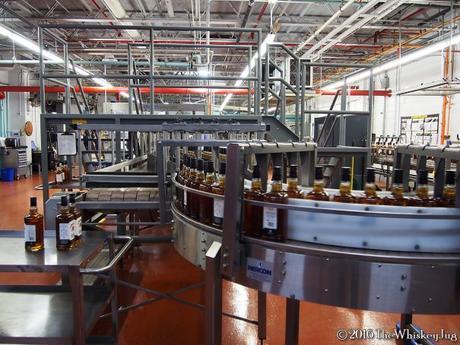 After a quick history lesson on the expansion of Beam into global markets we headed down to see what a full scale bottling operation looked like… and it was massive. We took a look at the Jim Beam White bottling line which pumps out an astonishing 300 bottles per minute. Thats's a MUCH bigger operation than T-Line, both of which are only a part of what gets bottled there every day. There are 12 bottling lines at Beam!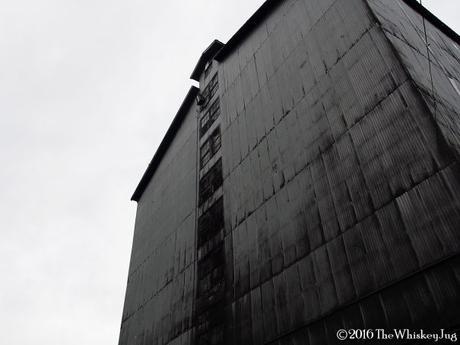 We had now seen every part of the Beam operation except where they age the bourbon. We left the bottling hall, hopped on the Beam Bus and headed on over to warehouse D to finish the tour and to, finally, drink some bourbon.
This impressive black monolith was constructed by Jim Beam right after prohibition and was one of Booker's favorite warehouses, along with warehouse E, to age bourbon in because of how they're constructed. Both rickhouses line up North – South which means their long sides get sun all day long. They also get a nice North-South breeze that "comes up outta the holler" making them a nice place to hang out.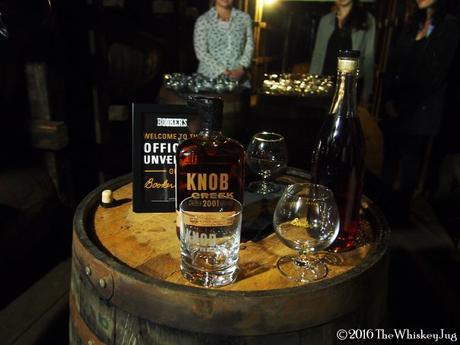 Inside of warehouse D we were presented with three bottles of whiskey (two of which are pictured above) that we'd be tasting with Mr. Fred Noe. We started the tasting with the latest Booker's Roundtable selection, dubbed Tuvie's Batch, that was picked the night before.
It was dense, rich and fruity with a nice bit of oak to it, but I forgot to take notes so I don't have anything more detailed than that at the moment. Between sips we learned that Booker's is almost always aged for 6-7 years, always comes from the center of the houses and that Fred likes it with a bit of water to open it up.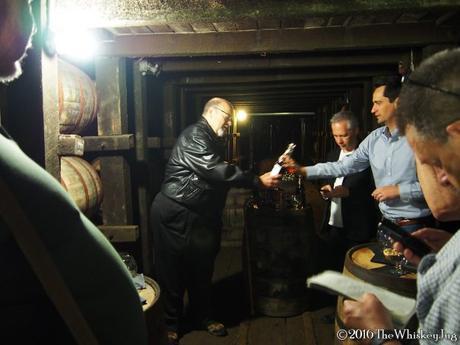 Next in line was the upcomming Knob Creek Vintage 2001 which was just spectacular. It's the oldest Knob Creek released to-date and it was every bit as rich as you'd expect. Here we learned that Knob Creek and Booker's barrels never come from the top or bottom floors.
Whiskey from the top and bottom is only ever used in standard releases like Jim Beam White and Black. We also learned that Fred prefers Knob Creek to Booker's in cocktails because it's easier to balance. Last, but not least, we tasted the Booker's Rye and it seemed like everyone in the room was more than impressed… I had three "sample snifters" of it myself.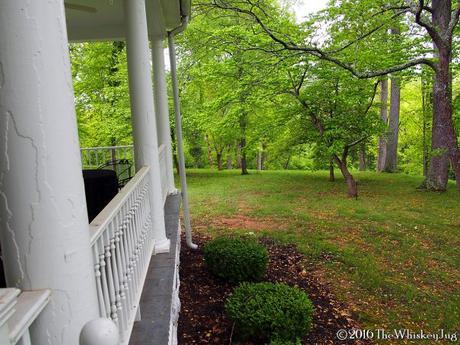 Once the "official" portion of the tasting was over we spent some time hanging out in warehouse D re-sampling the whiskeys and talking about things whiskey geeks talk about – whiskey. From there we hopped back on the Beam bus and headed over to the Knob Creek house for lunch where nearly everything had Jim Beam in it. Jim Beam pulled pork, pulled chicken, bbq sauce, dressing, etc. It was a nice slice of Kentucky and a fantastic way to end a tour, but our day wasn't over yet. No sir, after lunch we were being put to work.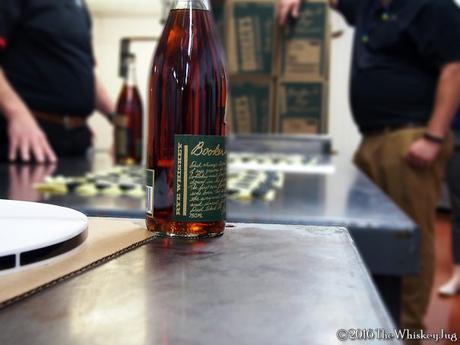 After lunch we went back to the distillery where a pallet of Booker's Rye waited for us to label, wax, box and pack. It was a fun and interesting process worthy of its own post and so that's exactly what I'm going to give it. That's right, this just became a three parter. See y'all tomorrow.
Cheers!
Jim Beam Distillery Tour – Part 1