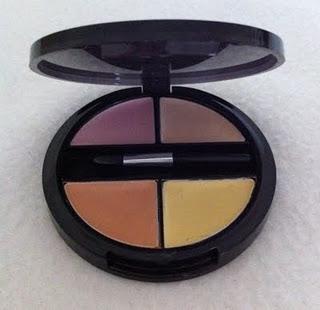 Jillian Dempsey for Avon Corrector Palette
Avon, the brand once synonymous with housewives and door- to- door selling, is now established as one of the leading providers of budget beauty. What could be more convenient for busy women than makeup that is affordable and comes directly to your doorstep?
Jillian Dempsey, makeup artist to the rich and famous and long time advisor for Avon has created her own range for Avon. When a well-established makeup artist and a high profile brand collaborate you have to hope for the best. Jillian Dempsey for Avon's Professional Corrector Palette is a product that delivers. The packaging states that the professional corrector palette, 'works to visibly reduce redness, hide dark circles and camouflage discolorations and perfections.' Pretty big claims but which products don't boast great results? The attractive compact provides four shades of concealer, lilac, apricot, pink and yellow and a brush to target problem areas. If you have skin like me you will need all the colours at one time or another and on a particularly bad day all at once! The lilac provides a healthy glow, which is effective on those days when you aren't feeling your best. The pink color is to counteract dark circles, helpful for those Sunday mornings after a heavy Saturday night. The apricot warms up dull complexions, which is good for those with very pale, yellow, and olive skin tones and the yellow combats redness. Both the apricot and the yellow are my favorite tools as the apricot gives my pale skin a subtle glow and the yellow is useful when a cluster of spots the size of the Himalayas erupt on my chin, usually at the most inconvenient of times!This product is available at Avonshop.co.uk for an affordable £10 and once you have purchased it will become part of your daily routine. My only concern is that it won't be consistently available as Avon seems to change and discontinue their products on a regular basis.  Perhaps if you purchase this product and like it as much as I do it might be a good idea to invest in a few for the future! 
Jillian Dempsey Professional Corrector Palette Review
 Product: A great compact and a must for those with uneven and unpredictable skin.
Longevity: Applied under foundation so longevity depends on what foundation you are wearing.Affordable: £10.00Easy to use: Yes, instructions given on packaging as to which color should be applied where. More difficult to use when skin is at its most troublesome. Availability: Available from Avon representative and online. Not available on the high street.The Verdict:  8/10 – Great corrector palette from Avon
Update - 
This product will be available in Campaigns 13, 14 and 15.