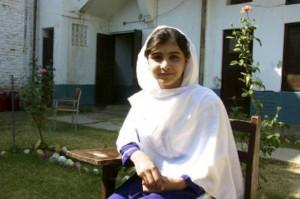 Jews pray for Malala Yousafzai
Regardless of colors and breeds the people across the globe are continued to pray for the health of teenage Pakistani piece activist Malala Yousafzai, who is battling for life in the Queen Elizabeth Hospital Birmingham in United Kingdom.
The 14-year-old, who earned the global eminence for her work to promote the schooling of girls in her home town Swat Valley during the Taliban oppression three years ago, was shot in head by Taliban along with two classmates on October 9 when she was on her way from school.
On Wednesday, during Anti Defamation League's (ADL) 18th annual Concert Against Hate in Washington Kennedy Center, more then 2,000 Jews paid tribute to Malala Yousafzai and prayed for the speedy recovery of young girl.
"Malala Yousafzai was courageous in her determination to stand up to the forces of evil and extremism, and to speak clearly for her conviction that women deserve better from a society and a system that has failed them in Pakistan," ADL National Director Abraham Foxman said.
Malala Yousafzai had started publishing a diary for the BBC about the hostile situation of Swat at the age of 11 and unveiled the atrocities committed by the Taliban. She was honoured with International Children's Peace Prize by Advocacy Group Kids Rights Foundation in 2011.
Last week American music diva Madonna had paid tribute to Malala Yousafzai by dedicating her a song in concert in Staples Center, Los Angeles. On Wednesday famous American actress and United Nations Goodwill Ambassador Angelina Jolie  proposed Nobel Prize for Malala.