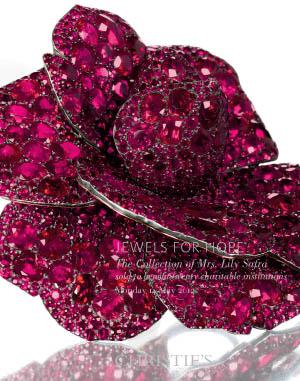 Jewels For Hope was created as an opportunity for charities chosen by Mrs. Lily Safra to benefit.
Yesterday, May 14th, there was  fantastic auction being held at Christie's in Geneva. Called the "Jewels For Hope: The Collection of Mrs. Lily Safra", this massive collection surpassed all expectations by bringing in 38 million dollars with 100 percent sold. While the overall cost to buyers may be stunning, the diamond jewelry is just as incredible in design and beauty.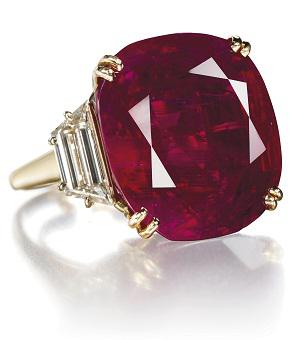 A Ruby Diamond Ring at 32.08 carats
Exciting was the theme word for how the bidding occurred. Repeatedly, bids were ripping past the estimates and records were being set. One such record was for a 32.08 Burmese Ruby Diamond Ring going for a final bid of 6.7 million dollars, which is the most for any ruby ring ever sold at auction. To see just how brilliant this ruby is and its coloring is amazing to look at.
Another real surprise was the Tourmaline and diamond flower brooch that easily cleared 1.2 million dollars. As a clear example of the kind of designs and elegance to be found in this amazing collection, the brooch is a one of a kind piece.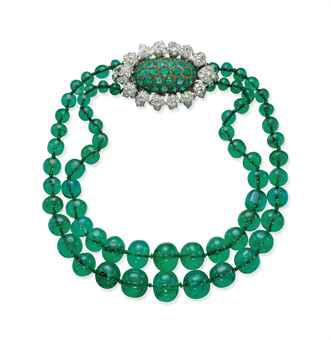 Emerald and Diamond Necklace at 598 carats is without a doubt one of the most stunning ever created!
Another real treasure is a emerald and diamond necklace that looks like two necklaces combined with a gorgeous oval-shaped diamond arrangement. It is absolutely beyond sensational with its clarity and almost luminous green bead shaped emeralds. Doubling its estimated top bid, this necklace is over 598 carats that adds to its overall appeal.
Mrs. Lily Safra was cheered by all at the end of the auction that clearly exceeded all expectations. The entire proceed amount will be divided up among a total 32 charities, 12 of which were added due to such a successful auction. The benefactors come from all parts of the world for organizations with very worthwhile causes and missions. Congratulations to Mrs. Safra and a heart-felt thank you to all who chose to participate in this Christie's auction!
For your resource of diamond jewelry with precious gems, Raymond Lee Jewelers can serve your needs. The tremendous pre-owned jewelry inventory is not only priced to sell with outstanding discounts, the selection is a sight to behold. Check out the fabulous collection on-hand in  our 3,200 square foot showroom in beautiful Boca Raton, Florida!