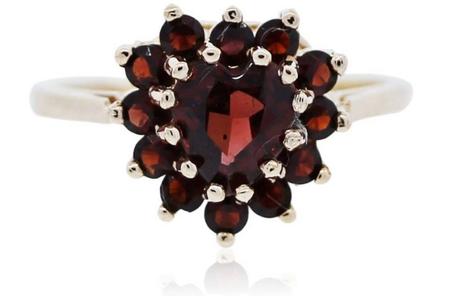 Jewelry For January
Need help finding the perfect birthday gift for someone with a January birthday? If you're shopping for someone in January, a piece of jewelry might just be the perfect gift. Before we show you some of our favorite pieces of jewelry for January, let's talk about the birthstone associated with the month.
January's birthstone
Individuals who are born in January have the birthstone, Garnet. They are known for their rich and vivid colors and have been associated with the terms peace and prosperity. The most common Garnet comes in a shade of deep red but the gemstone also comes in the colors red-orange, green and purple.
Bangles
Bangles make a great birthday gift. Check out some of our favorite January bangles below.
Earrings
Not sure if the person you're shopping for is into bracelets? Maybe they're into earrings. Check out our favorite Garnet earrings below.
Looking for a pretty necklace or pendant to give as a gift? This Garnet pendant necklace is charming and beautiful.
Rings are an ideal gift for anyone. They're the most worn piece of jewelry that there is. Here are a few of our favorite rings for January.
Areas we serve
We are located in southern Florida in the city of Boca Raton. We proudly serve Boca Raton and the surrounding following areas: Palm Beach, Fort Lauderdale, Miami, Broward, and Miami-Dade. Stop by and talk to one of our experts about finding your favorite piece of jewelry today.
Not sure where to begin when it comes to picking out the perfect piece for January? Learn more about and in our education center. If you're looking for further information Chat online, or even email one of our customer service advisers at [email protected]